Coron Palawan has a lot of accommodation you can choose from. There are budget, mid-range, and even luxury hotels that will fit any type of traveler– may it be solo, couple, or group. Guests traveling with their family and kids can also find a home away from home in Coron. If you want a scenic view of the ocean, here's our 10 best Coron luxury hotels and accommodation.
Related Read: 13 Best Tourist Spots to visit in Coron Palawan
This list provides you with a comparison of the best Coron Palawan accommodations so that you don't have to spend more time looking for the perfect one. This list was based on the ratings made by travelers from all over the world.
Read: The Ultimate Guide to Coron Island Hopping Tours
Comparison of best Coron Palawan accommodation
Where should I stay in Coron?
Sangat Island Dive Resort is a 3-star eco-friendly resort located in Coron Bay. It features rooms with a mountain view and ocean view. It also has a private beach where guests can enjoy a peaceful and serene vacation. The good thing about it is they also have family rooms which means that it is also perfect for a family getaway trip.
Why it is best?
Sangat Island Dive Resort uses solar energy as their source of electricity and desalination for their water supply. They are indeed one of the very few eco-friendly resorts that you can find across the country. Aside from the beautiful beach, the resort is also located near mangrove swamps, diving sites, hot springs, and a jungle forest. Guests can enjoy a lot of water activities in the area such as island hopping, kayaking, and jet skiing. They usually love scuba diving around the island. Food is great here too.
Location: Coron, Northern Palawan, Palawan Province, Sangat Island, Coron, Busuanga Island 5316 Philippines
Click here for updated rates and review
El Rio y Mar Hotel Coron is a 4-star hotel located in San Jose, Coron. They have a total of 31 non-smoking rooms nestled in an urban jungle and a beautiful beachfront. The resort is totally isolated in that they have an in-house restaurant to cater meals for their guests. If you are looking for a romantic getaway, El Rio y Mar Resort is the best Coron beachfront accommodation for you.
Why it is best?
El Rio y Mar Resort has an amazing view of the ocean. The beach is private and guests can kayak in front of the resort. The pool is also available and kid-friendly. Although there's no other restaurant on the island to give more choices to their guests, the resort has a variety of local and international cuisine on the menu. There are also a lot of activities you can do like scuba diving and other water sports activities like banana boat, and wakeboarding. Their rates are also affordable compared to other private Coron beachfront accommodation you can find.
Click here for updated rates and review
Location: San Jose, Coron, Busuanga Island 5316 Philippines
Plan your itinerary ahead. Here are some ideas on what you can do in Palawan.
Two Seasons Coron Island Resort & Spa
Two Seasons Coron Island Resort and Spa is a 5-star Coron beachfront accommodation that features non-smoking rooms and suites in a beautiful paradise in Malaroyroy, Busuanga Island. Some popular tourist destinations located nearby are Malcapuya Island, Banana Island, and Bulog Island.
Why it is best?
This hotel offers rooms with state-of-the-art facilities to make every guest feel at home while on a vacation. Aside from that, the resort also offers amenities like paddleboarding, kayaking, and snorkeling. You can also find marine life near the shoreline like stingrays and stonefish. Another thing that guests love here is the 4-cheese pizza and Lechon. Food is consistently good here too.
Click here for updated rates and review
Location: Malaroyroy, Coron, Busuanga Island 5316 Philippines
Club Paradise Resort is set on an exclusive beach on Dimakya Island in Coron.  Boasting 48 modern rooms each comes with a comfy bed, an LED tv, a coffee maker, a work desk, and lavish bath amenities. Some cottages have shiny, wooden floors and a private balcony.
Why it is best?
It is among a declared UNESCO Biosphere Reserve. A truly tropical paradise, they have some of Coron's best scuba dive and snorkeling sites, endemic flora and fauna, and unspoiled beaches!
The resort offers daily water activities including snorkeling, kayaking, parasailing, diving, and more. They have a swimming pool, spa, fitness center, in-house restaurant, bar, and dive center. Live up the full luxury experience with their in-house spa services and lavish massages. Everything is possible at Club Paradise Resort
Click here for updated rates and review
Location : Dimakya Island, Palawan, 5316 Coron, Philippines
Coron Underwater Garden Resort
Coron Underwater Garden Resort is a 3-star accommodation that's literally located above water. Forget about Coron beachfront accommodations because the affordable rooms in Coron Underwater Garden Resort are already giving you the same vibe. The hotel not only features a great view but is also perfect for the entire family. Getting here requires a 15-minute boat ride from Coron town proper.
Why it is best?
This hotel has air-conditioned rooms right above the sea. Aside from that, rooms are also equipped with basic features like a flatscreen TV, a private balcony, a dining area, and private bathrooms with complimentary toiletries. The resort also serves authentic Filipino dishes, and some pasta and salad. The pool in the resort is also made of saltwater.
Click here for updated rates and review
Location: 5 Baquid Island Poblacion, Coron, Busuanga Island 5316 Philippines
Borac Bay Bungalows is another Coron beachfront accommodation that you might like if you want a secluded place to stay while on the island. It is located far from Coron town but the view of this resort is worth it. You can also book an island tour with the resort and do some cool water activities by the beach.
Why it is best?
Boracy Bay Bungalows has the best location to enjoy a mountain view or a sea view from your bungalow. The electricity in the bungalows is also powered by solar panels. Within the vicinity of the resort, guests can enjoy the bar, kayaking, surfboarding, and even family-friendly activities. The resort also offers a free local cuisine breakfast every day.
Click here for updated rates and review
Location: Borac Port Road, Coron, Busuanga Island 5316 Philippines
Balinsasayaw Resort is a 3-star Coron beachfront accommodation located in Uson Island and is one of the best family resorts in Coron. It is also near top destinations like Kayangan Lake, Siete Pecados, and Twin Lagoon. To get there, guests can avail of the airport shuttle service of the resort or you can book an airport transfer here.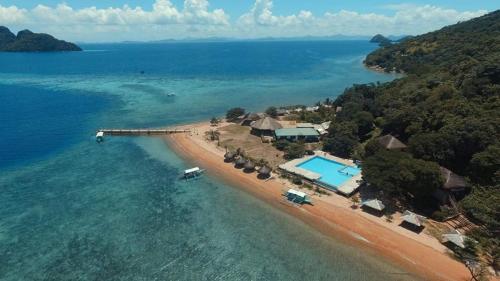 Why it is best?
Affordable with a view, you can take your entire family or friends to Balinsasayaw Resort. This Coron beachfront accommodation features 15 rooms and complete amenities such as free breakfast, an on-site restaurant, a bar, and an outdoor pool. Guests can also lounge in the hammocks while watching the golden hour.
Click here for updated rates and review
Location: Uson Island, Barangay Lajala, Coron, Busuanga Island Philippines
Aside from Coron beachfront accommodations which are usually located remotely, you can also find a lot of decent resorts just within the town. The Funny Lion is just one example of that. It is a 3-star hotel that features quiet and charming accommodation for guests who don't want to stay too far.
Why it is best?
The Funny Lion has 31 rooms which have good quality beds and facilities. The resort also has an outdoor pool and a rooftop bar where you can enjoy watching sunsets. It is also a good hangout place most especially during happy hour. Aside from that, guests also love the location of the resort. It is located within the vicinity of the town proper but in a quiet neighborhood.
Click here for updated rates and review
Location: 5 Sitio Jolo, Poblacion, Coron, Busuanga Island 5316 Philippines
Bacau Bay Resort Coron is a 3-star accommodation located close to restaurants, bars, and tourist destinations on the island. It offers decent airconditioned rooms and a beautiful, well-maintained resort. It is also one of the prime locations to watch the sunset in Coron.
Why it is best?
Bacau Bay Resort has non-smoking rooms and suites equipped with WIFI, 24-hour security, a mini-bar, and a safe. While the amenities include free parking, an outdoor pool with a poolside bar, bar, meeting rooms, a fitness center, a restaurant, and a spa. There are also services like laundry services and dry cleaning services for its guests. The food is also great in this resort. Guests love the resort's Kare-kareng Bagnet and pizza.
Click here for updated rates and review
Location: Governor's Drive Sitio Jolo, Poblacion 5, Coron, Busuanga Island 5136 Philippines
Two Seasons Coron Bayside Hotel
Two Seasons Coron Bayside Hotel is a 4-star Coron beachfront accommodation with a modern and luxury vibe. It should not be mistaken with the Two Seasons Island Resort in Malaroyroy since this one is located in Baranggay Tagumpay just near the town center.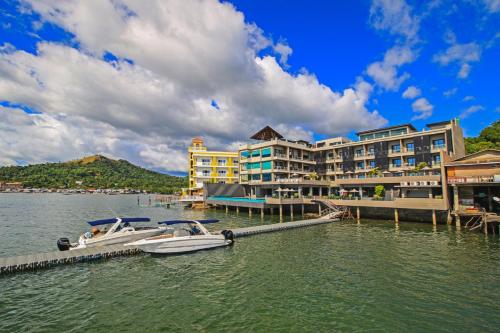 Why it is best?
Two Seasons Bayside Hotel is the first top-rated resort located close to the town center. It offers a beautiful view of Coron Bay and at the same time the convenience of being near the top restaurants and bars in Coron. The best room in the resort is the Panorama suite where you can enjoy a panoramic view of Coron bay just within your room. If you were not able to book the Panorama suite, the closest spot you can get to achieve its view is by the poolside.
Click here for updated rates and review
Location: Barangay Tagumpay National Highway, Coron, Busuanga Island 5316 Philippines
Want to know how to get to Coron? Read here how to get from El Nido to Coron and vice versa.
Read all our travel planning articles about Palawan here.
GO AROUND PHILIPPINES USEFUL TIPS AND LINKS
BOOK YOUR FLIGHTS
To travel around the Philippines, there are 3 local commercial airlines. Cebu Pacific Air, AirAsia and Philippine Airlines. Smaller airlines called AirSwift (El Nido, Boracay) and Royal Air also fly to limited destinations. Book your local flights here.
For international flights, I found Kiwi and Trip.com have cheaper flight options to the Philippines.
BOOK YOUR ACCOMMODATION
There are many choices of hotels, hostels, apartments and guesthouses to stay in the Philippines. Book through AGODA for the cheapest options and Booking.com. I also use Hotelscombined to see all prices from different websites to choose from.
BOOK YOUR BUS/FERRY/VAN/CAR
The Philippines can be difficult to go around because many buses, ferries and even private vehicles are offline. The best websites to book them are through Bookaway.com and 12GoAsia – they have many partners in different destinations and you can purchase tickets online.
Car rentals are also available for you to choose from here.
BOOK YOUR PACKAGE TOURS
If you don't know where to go and just want a hassle free trip to the Philippines, you can find package trips to different destinations with Klook – I recommend them for local tours and activities or Get Your Guide.
DON'T FORGET YOUR TRAVEL INSURANCE
It is very important to be safe and ready whenever accidents happen, especially in the Philippines where some places don't have quality hospitals and clinics. I use Safety Wings for whenever I travel in the Philippines or abroad.
Have you got any questions about traveling to the Philippines? Join our Philippines Travel Planning FB Page to get your answers.
Don't know how to start planning your Philippines trip? You can start here.
How Helpful is this Post?
Traveling around the world one baby step at a time. On a normal week, I juggle the life of a Software Engineer and a small business owner. I also write stories about my experiences while traveling– the adventures and the misadventures.