The Philippines is known for its beautiful white-sand beaches and diverse marine life. You can surely find lots of activities under the sun and even underwater. Not only that, but you can also complete your vacation by eating good Filipino foods, getting a relaxing massage, and getting to know the warm Filipino hospitality. If you're looking to find all of these in one place, this article is perfect as it talks about the best resorts in the country.
How to Plan Your Trip to the Philippines: The Ultimate Travel Guide
As someone who loves to travel, I know for sure that when it comes to choosing a resort, every cent must be worth it. So without further delay, here are the top 15 Best Resorts in the Philippines.
Comparison of the Best Resorts in the Philippines
Top 15 Best Resorts in the Philippines
Address: Alona Beach Rd, Panglao, 6340 Bohol
Hennan Resort Alona is located in the prime spot in Alona Beach, a quiet and small tropical beach in Panglao, Bohol. It is one of the top-rated resorts in Bohol and a highly recognized resort in the entire country. If you want to try other beaches, Danao Beach is located just 1.4 km away from it. The famous Bohol countryside tour which comprises the Chocolate Hills, Tarsier Sanctuary, and Bilar Manmade forest is also very accessible from this resort. You can find lots of tour agencies that can pick you up from Hennan Resort Alona. Tagbilaran Airport is 19.2 km from the resort but they offer an airport shuttle for their guests.
Click here for current prices of the rooms
The resort has a variety of rooms to choose from. They have a Deluxe room, a Premier room, a Junior Suite, and a Pool Villa which are perfect for 2 guests. Their Family two-bedroom room and Presidential Suite are also available for a group of guests who want a bigger space to accommodate everyone.
The beach is very accessible from the resort. Aside from that, it has an outdoor swimming pool with a pool bar. It also has a wellness center where guests can get a full body massage, a foot massage, a hand massage, and some other spa packages. Guests who are traveling with babies can also get a babysitting/child service from the resort at an additional charge.
For the food, there are 2 restaurants on site: Coral Cafe, and Seabreeze Cafe. Coral Cafe serves Asian foods for breakfast while Seabreeze Cafe serves Asian meals for lunch and dinner.
Best Part?
Guests loved the location of the resort which is just right in the heart of the popular Alona Beach. Hennan Resort is also known for its professional and accommodating staff and state-of-the-art facilities which overall gives a good value for money.
Worst Part?
Some guests complain about the slow check-in process and a few other damages in the room which can easily be addressed by the management. Apart from that, many of them really enjoyed their stay in Alona Beach. The price is not very affordable to many tourists too.
Summary
Overall, Hennan Resort Alona Beach is a popular choice for couples who want an intimate beach vacation. Their Pool Villa is specifically perfect for intimate trips such as anniversaries and wedding honeymoons.
CHECK HERE FOR MORE INFORMATION AND REVIEWS
Address: Main Road, Station 2, Balabag, Aklan, 5608 Boracay, Philippines
Hennan Lagoon Resort, just like its branch in Alona Beach, is also on top of the list of best resorts in the Philippines because of its world-class service. If you're coming to Boracay, you definitely should include this luxury resort in your list of accommodations on the island. One of the highlights of this resort is the 1200 sq.m. lagoon-shaped pool where you can find the resort's Asian-inspired rooms built around it. Each room has a balcony so guests can get a private viewing spot of the pool.
Click here for the latest room prices.
The resort has 222 luxurious rooms with room types such as the Deluxe room, Premier room, Grand room, and a Suite. The Suite features a 54 sq.m room with an extra-large double bed, a minibar, and direct pool access. You can also enjoy their gym and fitness center, business center, and of course, their world-class Lagoon Cafe where you can savor their delicious meals by the pool. The resort is just a short walking distance from White Beach Station 2 and D'Mall Boracay.
Best Part?
The quality of service you can get stays consistent among its other branches in the country. Guests really love the luxurious treat they can get from Hennan Lagoon Resort. From the check-in process until their last day at the resort, everything just goes smoothly. The wide range menu in Lagoon Cafe is also getting a lot of compliments from people.
Worst Part?
The resort does not have a beachfront or any direct access to the beach. Price is not suited for budget travelers.
Summary
Hennan Lagoon Resort is best suited for couples who want to give themselves a luxurious treat while in Boracay. The lagoon pool is really the main attraction in the resort but walking to the white beach is also not a problem.
CLICK HERE FOR MORE INFORMATION AND REVIEWS.
Address: 1 Ester A. Lim Drive, Barangay Tawala, Panglao, Bohol
Another gem in Panglao Bohol, Amorita Resort provides amazing services with its courteous staff and well-maintained facilities. It has Deluxe rooms and Suites. Guests can choose between a pool view or an ocean view. However, the most popular rooms here are its Pool villa and Seaview Pool villa where guests can enjoy a private pool and garden. Don't worry though because no matter which room you book, you will surely get an elegantly furnished room with an en suite bathroom and a balcony. The resort is also equipped with grab rails and wheelchair-accessible pathways for PWD guests.
Click here for the latest room prices.
Panglao Bohol is known not only for its beaches but also for its diving spots. If you want to try diving, the resort also has an in-house dive shop for your needs. Aside from that, you can try snorkeling, cycling, and table tennis while at the resort. The resort's spa and wellness center is also a good place to stay at the end of your morning activities.
Saffron Restaurant, the resort's on-site restaurant, serves Continental and Filipino cuisine, and they can even accommodate dietary meals upon request.
Best Part?
The exclusive villas with private pools are really perfect for honeymooners and families with kids. Many guests also appreciate the kind staff of Amorita Resort.
Worst Part?
The restaurant's menu can be updated so that guests can have more choices.
Summary
Amorita Resort is a good choice for those who want to enjoy the beachfront and maintain exclusivity.
CLICK HERE FOR MORE INFORMATION AND REVIEWS
Address: Barangay Agujo, Cebu, 6013 Daanbantayan, 
Another favorite tourist destination in the Philippines is Cebu. There is no doubt that Cebu has one of the most beautiful beaches in the country whether you stay at its Northernmost tip or its Southernmost end. And making it to the list of the top 15 best resorts in the Philippines is Kandaya Resort which is located in Daan Bantayan. If you want to travel to the North of Cebu, you definitely should check out this resort. It is located 3-hours away from Mactan Cebu International Airport and if you wish to go to Malapascua Island, the ferry terminal is just 7.3 km away. Just a quick background, Kandaya Resort is named after a local chieftain, Datu Daya, who protected Daan Bantayan during his time.
The resort has 40+ rooms with sea views and garden views which can be easily viewed from the balcony or patio. They have Deluxe rooms and Suites that are perfect for couples and even solo guests. These rooms feature a choice of 2 single beds or an extra-large double bed. The rooms are also soundproof and well airconditioned. A flat-screen TV, as well as an iPod dock and a sofa, are provided for the guest's entertainment. The resort also has Garden villas and Beach villas with a private pool for those guests who want to keep their privacy.
Click here for the latest room prices.
A good resort will never be complete without a good on-site restaurant. In Kandaya Resort, they have Kusina which serves pizzas, seafood meals, and other local and international cuisines. They are open for breakfast until dinner. They also have a cocktail hour so you better keep an eye on it.
Other activities that you can do while in the resort are archery, bike tours, badminton, tennis, horse riding, canoeing, and other watersports activities. If you love to sing, the resort also has karaoke. To get there, you can rent a car from Cebu City or you can ride a bus from the North Bus Terminal in Mandaue City.
Best Part?
The resort has a lot of facilities and activities you can enjoy. It even has activities that kids can do so it really is perfect for every type of guest and not only for couples.
Worst Part?
Some areas in the resort can be infested with mosquitos so better bring an insect repellant when traveling.
Summary
Kandaya Resort is located in a very secluded spot but good thing that it is just along the highway which makes it very easy to locate. It is a perfect resort for those who want to enjoy privacy and relax in a quiet place.
CLICK HERE FOR MORE INFORMATION AND REVIEWS
Address: Cadiz Viejo, Cadiz City, Negros Occidental
Lakawon Island is a must-visit resort in Negros Occidental. It is situated on a lush 16-hectare banana-shaped island with a white-sand beach. It is approximately 5 km from the mainland. The resort also houses the biggest floating bar in Asia, the TawHai.
The room choices vary from budget-friendly types to luxurious types. If you are on a budget, they have 16 bunk rooms that feature bunk beds and cable TV. This type of room is good for 8 people. A common bathroom is also shared among all the guests in the bunk rooms. On the other hand, they also have Suites like the Barkada Suite, Condo Suite, Junior Suite, Premier Suite, and Honeymoon Suite. These rooms have a private bathroom.
Click here for the latest room prices.
Aside from the white sand beach, another main attraction in Lakawon Island Resort is the Tawhai Floating Bar. In the local dialect, Tawhai means "relaxed" and it is indeed very relaxing to dine here. If you want a little thrill, you can also jump overboard the floating bar but you'll have to sign a waiver first. The resort also has its main restaurant which is an airy and spacious dining room surrounded by the ocean and the lush greenery of the island. The main restaurant serves various cuisines from international meals to native dishes like the popular "Chicken Inasal".
Best Part?
The Tawhai floating bar is definitely something to look forward to in this resort. From here, the sunset surely looks immaculate and I think nothing is more relaxing than lounging in the middle of the sea with good company.
Worst Part?
Lakawon Island seems almost perfect. However, just be prepared to pay a hefty price every time you try something at the resort. For instance, in the floating bar, the entrance fee, food, and beverages are charged separately.
Summary
Staying in Lakawon Island Resort is a one-of-a-kind experience. Staying in this resort gives you a very secluded vacation plus you can also enjoy the view from the floating bar.
Address: Sumilon Island, 6025 Sumilon Island, Philippines
Just like Lakawon Island Resort, Bluewater Sumilon Island Resort is located on a private beach on Sumilon Island. It is a Filipino-owned chain of resorts and has received the "2019 Certificate of Excellence" recognition from TripAdvisor. It is also one of the highly-rated resorts on Booking.com.
The resort has 14 Deluxe rooms which have 2 queen beds in each room. They also have 14 Premier Deluxe Rooms which are 20 sq.m bigger than the ordinary Deluxe room. A One-Bedroom Villa which is located on the secluded cliffs within the island resort is also available and a Family Villa for families who want complete privacy and relaxation. The Villas have their private pool and a veranda overlooking the sea. Glamping is also available on the island for those who want a camp life experience. There are also other activities on the island such as trekking, biking, and cave tours.
Click here for the latest room prices.
To get here, Sumilon Bluewater Resort is a 3 to 4 hours drive from Cebu City. You can also take a bus from South Bus Terminal to Oslob. Once in Oslob, you can take the resort transfers from Oslob to Sumilon Island.
Best Part?
Not only that the island has a white-sand beach, but the entire island is also filled with activities. There are scuba diving spots all around the island which makes it very ideal for scuba diving enthusiasts. Glamping is also one of the exciting things to look forward to in the resort.
Worst Part?
Due to its popularity, it could get crowded which takes away the secluded vibe of the place.
CLICK HERE FOR MORE INFORMATION AND REVIEWS
Summary
Bluewater Sumilon Island Resort is no doubt deserving to be in the top 15 best resorts in the Philippines because it can accommodate intimate vacations and even casual trips with your friends. They have various rooms that are perfect for different types of travelers. You can also easily go to the resort from the mainland.
Address: Barangay Guinticgan, Iloilo, 5019 Carles, Philippines
One of the top 15 best resorts in the Philippines is located on the island of Carles, a 15-minute boat ride from Gigantes Island. This island getaway has a private beach area and an outdoor swimming pool where you can fully enjoy the natural ambiance. You can also spend your afternoon relaxing at the hammocks or biking for free around the resort.
Click here for the latest room prices.
There are different types of rooms available in Solina Beach and Nature Resort and each of these rooms is equipped with a flat-screen TV and air conditioning. Some rooms also have a balcony, private bathrooms, a kitchenette, and a dining area. The cheapest room offered here is the Standard Twin Room with Garden View which is perfect for 2 guests. Guests can also book an entire villa with a sea view and pool view. The resort's on-site restaurant, Angga, serves Filipino and international cuisines as well as grilled seafood. Beverages are also available at the bar.
Best Part?
The resort is perfectly located in the middle of nowhere. Aside from that, guests can also easily explore the popular Gigantes Island which is just a 15-minute boat ride from the resort. Many guests also enjoyed the infinity pool and how clean and well-maintained they are.
Worst Part?
Wifi is not very stable.
Summary
Solina Beach and Nature Resort is a decent resort that is affordable to many travelers. It has a very pleasant and peaceful atmosphere that many guests will love.
CLICK HERE FOR MORE INFORMATION AND REVIEWS
Address: Cauayan Island Bacuit Bay, El Nido, 5313 Palawan
Cauayan Island Resort is a 5-star resort located in El Nido. In fact, it is one of the most popular resorts in Palawan. This luxury resort has five types of villas that have a very Filipino-inspired design. The following are Beach View Villa, Lagoon Villa, Beach Front Villa, Water Villa, and Pool Villa.
The Beach View Villa is 50 sq.m. big which can accommodate 2 people and has a beautiful beach view. Lagoon Villa, on the other hand, has a nice view of the man-made lagoon and waterfalls. The Beachfront Villa is bigger than the previously mentioned villas and is located on the resort's powdery white sand beach. The Water Villa is built above the turquoise water on Cauayan Island. Lastly, for the Pool Villa, guests can choose from the following locations: bay view, resort view, and sunrise view.
Click here for the latest room prices.
The resort does not only serve beautiful scenery but it also has an on-site restaurant that serves fusion dishes. If you want to have private dining for special events, may it be by the beach or on a private island, the resort can also accommodate such requests.
Best Part?
The overall vibe of the resort is giving a very luxurious feel. I love that the Villas are located in different sections of the island but all of them have equally beautiful scenery. The food choices are also very extensive and the private dinners are also a good option for guests who are celebrating a special occasion. Worst Part?
None that I can think of. I'd say even though a night in this resort is very pricey but it is totally worth it. Cauayan Island Resort is indeed a world-class resort in the heart of El Nido.
Summary
Couples will surely love to spend some time together here at Cauayan Island Resort. The villas and the beautiful scenery around them surely give a very romantic vibe for honeymooners. If you're planning to visit El Nido soon, you should definitely check out this resort.
CLICK HERE FOR MORE INFORMATION AND REVIEWS
Address: Buenavista Hills Road, Barangay, Tolentino West, Tagaytay
Anya Resort Tagaytay offers 78 sophisticated suites within its 72 hectares of land. Located 30 minutes south of Metro Manila, you'll surely enjoy your quick escape to the cold breeze and lush greenery of this resort. You can select from its Junior King Suite, Anya Veranda Suite, and Anya Garden Suite. All of these rooms have spacious balconies or terraces. The beds are clothed with premium beddings, and the private bathroom has a separate bathtub and rain showers.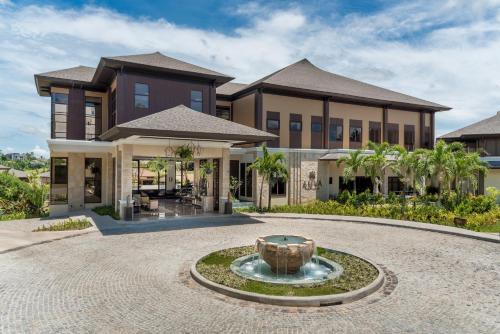 Click here for the latest room prices
Guests can also experience an authentic dining experience in Anya's restaurant since all of their ingredients are locally bought. One of its distinct dining options is Samira by Chele Gonzalez. You can choose from its 6-course set menu, a la carte meals, and their signature Cocido Experience. Just keep in mind that this restaurant has its own dress code. If you don't want to dress up and just want to grab a standard meal, Anila poolside serves brick oven-baked pizzas, salad, and pasta.
Best Part?
Anya's location is close to Metro Manila which makes it suitable for a quick weekend trip.
Worst Part?
Nothing. So far, Anya has been getting a lot of exceptional feedback.
Summary
If you want to escape the fast-paced lifestyle in Metro Manila, Anya Resort Tagaytay is a perfect choice.
CLICK HERE FOR MORE INFORMATION AND REVIEWS
Address:  Paseo Saturnino, Cebu City, 6000 Cebu
Asmara Urban Resort and Lifestyle Village is a rising resort located in the heart of Cebu City. It aims to bring people together with good times, delicious foods, and sports. It is a completely sustainable and all wooden structure hotel. Each room has its own distinct interior which overlooks the resort's outdoor pool.
If you want to get involved in wellness activities, Asmara also has a wide range of options. One of the most popular is their open-air tennis court where guests can play with a trainer or leisurely rally in this open field. The resort also has a solar-powered squash court which can also be used for playing table tennis. Yoga is also a popular activity in the resort. In fact, many Cebuanos intentionally come to Asmara to attend a yoga session.
Click here for the latest room prices.
Have I mentioned that Asmara is inspired by Italy's piazza? With that said, its restaurant also specializes in authentic Italian cuisine. They even have the ingredients imported from Italy just to get the accurate Italian flavor. At night, Asmara's Gravity Bar turns into one of Cebu's best cocktail bars.
Best Part?
Asmara's sustainable and eco=friendly concept is really one of a kind. You can surely get the vibe right away just by looking at the photos. I also love that each room also has a very unique interior. It's very basic and comfortable– truly a breath of fresh air. Aside from that, it is also located in the middle of the city which makes many establishments very accessible from the resort.
Worst Part?
There are not many rooms.
Summary
If you're the type of person who loves to do sports and recreational activities, Asmara is the perfect place for you. It is also the perfect getaway vacation spot if you don't want to go far from the city.
Address: New Seaside Dr, Tambo, Parañaque, 1701 Metro Manila
This sleek luxury resort in the heart of Manila is only 3 km away from SM Mall of Asia and 5 km away from NAIA. Staycations in Okada Manila will truly transport you to a whole new level. That makes it one of the top 15 best resorts in the Philippines. Guests can enjoy the outdoor swimming pool which overlooks Manila Bay. There is also a casino, a club, and special art exhibits within the resort's vicinity. For some relaxation, the resort has specialized spa treatments too.
The rooms in Okada are all air-conditioned and soundproofed. Some even have their own private massage rooms. If you want to get a nice view of Manila Bay, their 350 sq. m. Manila Bay Suite is a good option.
Click here for the latest room prices
Dining in Okada is also a feast. Guests can select from 10 dining options. For example, there are Japanese, Chinese, Korean, Filipino, and Italian restaurants. Aside from these specialty restaurants, Okada also has The Medly Buffet, Lobby Lounge, and Okada Lounge which are also good dining spots.
Best Part?
Okada Manila is a very huge resort with world-class services. It seems like they already have everything inside– food, entertainment, relaxation, and even ATMs if you run out of cash! One of the best parts about it is its accessibility to the airport.
Worst Part?
For a world-class service like this, you also need to pay a very hefty price which is justifiable. Apart from that, I think Okada Manila is really a very good resort within the city.
Summary
Okada Manila is undeniably a luxurious resort but if you have the money to spend on it, I think it's worth it. The staff are very accommodating and will really make you feel at home.
CLICK HERE FOR MORE INFORMATION AND REVIEWS
Address: Barangay Yapak, Yapak, 5608 Boracay, Philippines
Shangri-La Boracay is a luxurious treat in Boracay. This resort features an 1148-foot private beachfront, 2 outdoor pools, and spacious guest rooms. In fact, it was awarded by Conde Nast as one of the Best Resorts in Asia in 2021. They have a selection of standard rooms, villas, and suites. What's great about booking villas and suites is that you can have your own butler and even a private pool or an outdoor hot tub. They also offer room packages with airport transfers for their guest's convenience.
Click here for the latest room prices
You can also find a lot of dining options on-site. They have Vintana Asian Cafe which serves international cuisine for breakfast. They have buffet and a la cart options. Cielo also serves a la carte international cuisine for brunch until dinner. Sirena, on the other hand, has fresh seafood as well as Asian and International cuisine. For your Italian and Mediterranean cravings, Rima has these on their menu. Located closest to the resort is Banyugan Beach. Caticlan Port and Caticlan Airport are also only 8 km from here.
Best Part?
Shangri-La Boracay has been in the industry for so many years already. Its quality of service has always received a lot of recognition from their guests and travel experts. The treehouse villa is indeed a must-try.
Worst Part?
Located quite far from the tourism center and White Beach.
Summary
Shangri La Boracay is perfect for those who want to stay away from the busiest part of Boracay which is usually near White Beach.
CLICK HERE FOR MORE INFORMATION AND REVIEWS
Address: Malaruyroy, Bulalacao, Palawan, 5316 Bulalacao, Philippines
Two Seasons Coron Island Resort and Spa is a 5-star laidback resort located in Palawan. This eco-friendly resort features luxurious bungalows. It can be reached after a 30-minute drive from Busuanga Airport followed by a 45-minute scenic boat ride from the port. Once in the resort, you'll easily notice the white sand beach and the lush greenery all over the island. You'll also be amazed to know that the resort is a turtle and giant clam sanctuary. Other things to look forward to here are the sandbar and the mangroves located on the east side of the resort. Guests can also enjoy the island tours and dive courses offered in Pawikan Aqua Sports Center, the transparent kayak, and the hydroBOB submersible scooters.
The resort has 42 bungalows, 2 beaches (sunrise and sunset beach), a spa and fitness center, and a 600 sqm adult and kiddie pool. For entertainment, a karaoke and game room are also available.
Click here for the latest room prices
What's even more amazing about this resort is that it is self-sustaining. It has its own Desalination Plant which converts seawater to non-potable water and a Sewage Treatment Plant which cleans wastewater so it can be reused for flushing. They also have their own generators and solar panels to generate power for the entire resort. Dining at Two Seasons Coron is also a treat. It has its main restaurant, Sulu Restaurant, where you can order fresh seafood and get a magnificent view of the sea and the surrounding islands.
Best Part?
One of the best parts of Two Seasons Coron is that it is the first eco-friendly resort in Palawan. Having a nice contemporary design and excellent customer service is already given in a lot of resorts but being an eco-friendly and self-sustainable business is a game-changer.
Worst Part?
Nothing that seems very alarming.
Summary
The ambiance in Two Seasons Coron is perfect for couples. Their eco-friendly and self-sustaining process is also something very commendable.
CLICK HERE FOR MORE INFORMATION AND REVIEWS
Address: Punta Engaño Rd, Mactan Island, Lapu-Lapu City, 6015 Cebu
One of the top 15 best resorts in the Philippines is Dusit Thani Mactan. It is located in Mactan, Cebu, and just 6.8 kilometers from Mactan Cebu International Airport. This 5-star resort has 272 airconditioned guest rooms and luxurious suites, an outdoor swimming pool, a fitness center, and a bar.
Click here for the latest room prices
Dusit Thani Mactan also has various dining and bar options. The main restaurant is The View which indeed has a stunning view of the resort's infinity pool and the sea. Tradewinds Cafe also offers a panoramic sea view while you savor their selection of Filipino and international cuisine. If you want to dine by the poolside, the Sunset Bar is also a nice place to enjoy some finger foods or grilled foods. Benjarong, on the other hand, serves authentic Thai cuisine. For freshly baked foods, The Deli is the right place to go.
Best Part?
The ambiance and the staff are excellent. Many people also liked the breakfast buffet.
Worst Part?
The location is quite far and there are no convenience stores or cheap restaurants nearby.
Summary
If you want to experience Thai hospitality, Dusit Thani is excellent in this field. It is perfect for couples, group of friends, or family who wants to get away from the hustle and bustle of the city.
Address: Punta Engaño Rd, Lapu-Lapu City, Cebu, 6015 Cebu
Shangri-La Mactan located in Mactan, Cebu features a 350-meter white sand beach. It is also a luxury hub for relaxation, entertainment, and recreational activities. It has 530 spacious guest rooms and suites, all having a contemporary ambiance with Filipino accents in it. Each room also comes with an exclusive pillow menu and the basics like a private bathroom, a minibar, and cable/satellite TV. Aside from those, Shangri-La also houses Chi, one of the largest spas in Asia.
Click here for the latest room prices
Of course, fresh seafood is a must when staying near the beach and Cowrie Cove has got it covered for you while Acqua serves Italian cuisine. Tide of Spring serves Cantonese foods and Tides offers an international buffet. The hotel is just a 5-minute walk to the Shangri-La Marine Sanctuary and a 20-minute drive from Mactan Cebu International Airport.
Best Part?
Guests enjoyed getting a massage at Chi. The Marine Sanctuary also has diverse marine life which you can explore.
Worst Part?
Some guests complained about the food choices during breakfast.
Summary
Shangri-La is perfect for guests who are visiting with their families. Couples also like this location.
CLICK HERE FOR MORE INFORMATION AND PRICES
We know it's difficult to travel at this time, but planning your trip to the Philippines is always a good idea. You can dream of the places that you want to visit and know exactly where you will go.
Did we miss anything else? Let us know in the comments!
GO AROUND PHILIPPINES USEFUL TIPS AND LINKS
BOOK YOUR FLIGHTS
To travel around the Philippines, there are 3 local commercial airlines. Cebu Pacific Air, AirAsia and Philippine Airlines. Smaller airlines called AirSwift (El Nido, Boracay) and Royal Air also fly to limited destinations. Book your local flights here.
For international flights, I found Kiwi and Trip.com have cheaper flight options to the Philippines.
BOOK YOUR ACCOMMODATION
There are many choices of hotels, hostels, apartments and guesthouses to stay in the Philippines. Book through AGODA for the cheapest options and Booking.com. I also use Hotelscombined to see all prices from different websites to choose from.
BOOK YOUR BUS/FERRY/VAN/CAR
The Philippines can be difficult to go around because many buses, ferries and even private vehicles are offline. The best websites to book them are through Bookaway.com and 12GoAsia – they have many partners in different destinations and you can purchase tickets online.
Car rentals are also available for you to choose from here.
BOOK YOUR PACKAGE TOURS
If you don't know where to go and just want a hassle free trip to the Philippines, you can find package trips to different destinations with Klook – I recommend them for local tours and activities or Get Your Guide.
DON'T FORGET YOUR TRAVEL INSURANCE
It is very important to be safe and ready whenever accidents happen, especially in the Philippines where some places don't have quality hospitals and clinics. I use Safety Wings for whenever I travel in the Philippines or abroad.
Have you got any questions about traveling to the Philippines? Join our Philippines Travel Planning FB Page to get your answers.
Don't know how to start planning your Philippines trip? You can start here.
How Helpful is this Post?
Traveling around the world one baby step at a time. On a normal week, I juggle the life of a Software Engineer and a small business owner. I also write stories about my experiences while traveling– the adventures and the misadventures.