Searching for sand, sea, and sun without the throngs of tourists? Bantayan Island in Cebu needs to be on your travel dream list. Located at the northernmost tip of Cebu, Bantayan Island offers breathtaking beaches and eco-tourism destinations where visitors may engage in activities like sightseeing, swimming, cliff diving, island hopping, kayaking, and even skydiving.
This island consists of 3 municipalities which include Bantayan, Sta. Fe and Madridejos.
The term "Bantayan!" which means "keep watching" is said to have been shouted by the locals, and this is how the island got its name. During the reign of the 22nd Governor-General Sebastian Hurtado de Corcuera, 18 watchtowers were constructed on Bantayan Island when Moro pirates stormed the island in search of captives, hence the name Bantayan sa Hari, which translates to "Watchtowers of the King". For a complete travel getaway to Bantayan Island, here are our top 10 best beach resorts to stay in Bantayan Island.
Bantayan Island is not only a beach destination. It serves as Cebu's fishing grounds, supplying towns and provinces as far away as Manila and Mindanao with fresh catch. They're famous for their danggit (dried fish). On your trip to Bantayan Island, you can be sure that your days will be filled with food tours where you may eat the finest seafood delicacies at a lesser cost.
Related Read: The Ultimate Travel Guide to Bantayan Island
Comparison of Top 10 Best Beach Resorts to Stay in Bantayan Island
Where should I stay on Bantayan Island?
The Amihan Beach Cabanas Resort is a 3-star boutique hotel on Bantayan Island in the Philippines. Amihan serves as an ideal setting for a luxurious escape in a peaceful environment, set against the backdrop of crystal-clear waters with a magnificent sunrise. Where amenities and services are provided for guests and tourists who wish to spend a few days or longer holidays. Amihan Beach Cabanas Resort currently has seven 1-bedroom cabanas, one 2-bedroom family cabana, a restaurant, and a bar on the property. Filipino-designed cabanas are made of bamboo and local materials paired with a western touch on room amenities.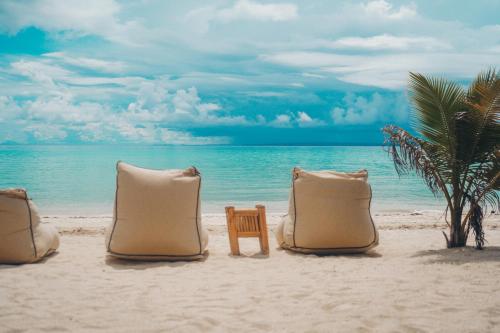 Location : A. Batobalonos Street, Bantayan Island, Cebu
Best Part?
The location is great, and the local markets, and the restaurants were only a short walk away. The location of the resort is also quiet, you can really relax since it is not crowded.
Worst Part?
According to guests, They were trying to limit guests from using too much water when showering. Water pressure is also low
Summary
Perfect place for a quiet paradise getaway.  Click here for the latest room prices
Several resorts are located on Cebu's Bantayan Island, best known for its crystal-clear waters and beautiful white beaches. These resorts will make your growing season in 2022 a moment to remember. The top resort on such an island in this region of Cebu is Anika Island Resort in Santa Fe, Bantayan. Santa Fe is home to a 7,000 square meter property with 40 distinctly custom-appointed container van rooms. In this resort, you can't help but be mesmerized by the resort's expansive white sand beach, beautiful waters, and spectacular sea views.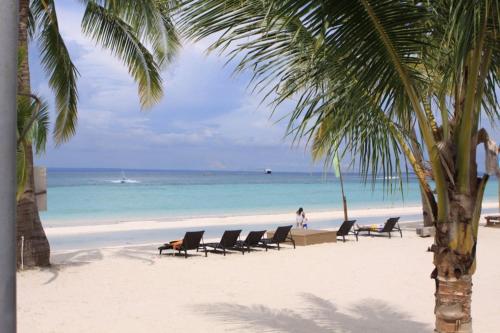 Location : F. Roska St., Bantayan Island, Cebu
Best Part?
An excellent place to relax if you want a resort that's not overcrowded and with very good service
Worst Part?
There is hardly any cellphone signal in the room.
Summary
A Quiet, peaceful, and lovely island. Perfect place for couples and nature lovers. Click here for the latest room prices
Coral Blue Oriental Beach Villas is home to the most exquisite bamboo-style hotel on the island. Currently situated on a tropical island with direct access to the beach, a stunning overview, and a glimpse of the rising sun. The rooms, bathrooms, and other amenities of the suites and villas are decorated with European touches while the roofing is built of bamboo and indigenous materials. Each room has air conditioning, a ceiling fan, a desk fan, a hot and cold shower in the private bathroom, a safety deposit box, a balcony with sun loungers, and a hammock. The luxury of being far away from it all is only three minutes from the Sta. Fe Sea Port and three minutes from the Town Business and Finance Center.
Location : Batiancilla St, Talisay, Santa Fe,, Bantayan Island, Cebu
Best Part?
The staff was friendly and very attentive, without being imposing.
Worst Part?
According to a guest, the karaoke played loudly for two nights of their three-night stay.
Summary
The ambiance is superb! Coral Blue Oriental Beach Villas and Suites is the place to go! Click here for the latest room prices
Coucou Bar Hotel and Restaurant is perfectly located for both business and leisure guests on Bantayan Island. Both business travelers and tourists can enjoy the hotel's facilities and services. Free Wi-Fi in all rooms, 24-hour front desk, 24-hour room service, facilities for disabled guests, and express check-in/check-out are just some of the available facilities. Comfortable guestrooms ensure a good night's sleep with some rooms featuring facilities such as a locker, closet, towels, television LCD/plasma screen, and umbrella. Enjoy the hotel's recreational facilities, including massage, billiards, and garden, before retiring to your room for a well-deserved rest. Discover all Bantayan Island has to offer by making Coucou Bar Hotel and Restaurant your base.
Location : Poblacion, Batobalonos street, Bantayan Island, Cebu
Best Part?
Coucou Bar Hotel & Restaurant sits in the middle of the town. You can easily access the market, church, beaches, and many more to mention. A very convenient location.
Worst Part?
The price could be high compared to other restaurants around the area.
Related Read: The Ultimate Travel Guide to Cebu
Summary
Enjoy the beautiful white sand beaches and night time! Enjoy delicious cocktails and drinks safely. Click here for the latest room prices
Kota Beach Resort is currently located in Sta. Fe beach, Bantayan Island, and known for its white sands, glorious sunrise, curved shoreline, and affordable accommodations. We are a modern native-inspired resort that features 20 bungalow cottages, 15 side-by-side rooms, and the Kadlawon Restobar. One of the nicest sections of white sand in the Santa Fe beach region is located in front of the resort. Kota Beach Resort also provides complimentary pick-up from Sta. Ca Port (between 8am – 5pm).
Location : F. Duarte Street, Poblacion, Santa Fe, Bantayan Island, Cebu
Best Part?
The reservation came with a complimentary breakfast and was rated pretty good.
Worst Part?
According to guests, the ambiance was great, but the service was poor. The drinks were average.
Summary
Kota Beach Resort is a budget-friendly resort. The food is wonderful, they have the usual beers and beachside areas to unwind. A place you should definitely visit. Click here for the latest room prices
On Bantayan Island, the La Playa Estrella Beach Resort offers a bar, a restaurant, a garden, and a spacious beachfront with gorgeous white sand, a soothing blue ocean, and tranquility!  This hotel offers family rooms as well as a balcony for guests and visitors.  At the resort, each accommodation has a private bathroom and air conditioning, a 24-hour front desk, and nightly entertainment also available on the premises. You can even play pool and rent bikes.
Location : C. Batiancila Street, Bantayan Island, Cebu
Best Part?
Great location. Right on a white sand beach. Food and drink are reasonably priced.
Worst Part?
Some guests say, they experienced bad customer service. Guests were not taken care of.
Summary
La Playa Estrella Beach Resort'swhite sand beach is really beautiful. The shoreline is really long which makes it visibly amazing and at the same time, they have a bar near the beach to make it easy to grab drinks. Definitely, a recommended resort when you think of traveling to Bantayan Island. Click here for the latest room prices
Your "home away from home" on Bantayan Island is Marlin's Beach Resort. The resort strives to make your stay as delightful and peaceful as possible, which explains why so many visitors return year after year. To make your stay even more enjoyable, they provide visitors with a variety of in-room comforts, like air conditioning and room service. The hotel offers a complimentary breakfast as well. There is free parking available for visitors arriving by car. The picture of these tropical islands is shaped by the pristine sandy beaches, clear oceans, and laid-back style of life at Marlins Beach resort. You may enjoy Bantayan Island's beauty without sacrificing contemporary conveniences or a wide range of recreational activities!
Location : Roska Street 4, Santa Fe, Bantayan Island, Cebu
Best Part?
Friendly and professional staff.
Worst Part?
According to a guest, there is no hot water but who cares? It's 30 degrees.
Summary
Great place, with great staff. Fantastic view of the ocean, sitting right on the beach. A place you would definitely visit. Click here for the latest room prices
Travelers visiting Bantayan Island should consider staying at Ogtong Cave Resort, which provides a family-friendly setting and a number of useful amenities to make your stay more enjoyable. A restaurant and a pool are also available to you.
The resort also has a 24-hour front desk available to visitors when staying. Ogtong Cave Hotel offers guests air conditioning, a refrigerator, a flat-screen TV, and an internet connection in their rooms.
When you stay at Ogtong Cave Resort, you'll discover what it means to have a vacation that is actually peaceful and you can enjoy everything Cebu has to offer.
Location : Pooc, Santa Fe, Bantayan Island, Cebu
Best Part?
You can borrow a bike and stroll around Sta. Fe (suggest going north to the Ruins).
Worst Part?
Pretty far from the restaurants and main beach.
Summary
You can do so many things in one place. Very nice feeling swimming in the cave where white salt water is mixed with cave water. Very relaxing and refreshing. Click here for the latest room prices
The best of Bantayan Island is available right outside your door at the Bantayan Island Nature Park and Resort. Enjoy some of the services provided throughout your stays, such as the chapel, room service, and concierge. The on-site pool and lounge are also open to Bantayan Island Nature Park and Resort visitors. Free parking is also available for guests arriving by vehicle.
The Bantayan Island Nature Park promotes initiatives to protect the environment and hasten the process of conservation and resource preservation. As you explore all that Bantayan Island has to offer, we're confident you'll love your stay at Bantayan Island Nature Park and Resort.
Location : Purok Lubi, Tamiao, Bantayan Island, Cebu
Best Part?
 The place is good for relaxation, and the peace and quiet are refreshing. Love the sound of birds, waves, and fresh air.
Worst Part?
The place is quite far from the commercial area.
Summary
A place where It's one of the best if you wish to get away from the city. Click here for the latest room prices
The greatest and longest beach in the vicinity is at the Beach Placid Resort & Restaurant in Santa Fe, which is open and delighted to welcome visitors all year long. The resort offers a variety of cottage styles to accommodate guests from many backgrounds and lifestyles. You arrive as strangers and depart as a family at the calm beach! If shopping is what you're after, Bantayan Public Market and San Remigio Public Market are both worthwhile stops. Sandira Beach and Bantayan Public Plaza are great places to see the area's natural beauty.
Location : F. Roska Street, Alice Beach, Santa Fe, Bantayan Island, Cebu
Best Part?
Good rooms, nice views, and nice people. Easy to talk with the receptionists and staff.
Worst Part?
Food and drinks were quite pricey.
Summary
If you want to have a peaceful vacation, Beach Placid Resort is definitely part of the list. Click here for the latest room prices
Did we miss anything else? Let us know in the comments! 
GO AROUND PHILIPPINES USEFUL TIPS AND LINKS
BOOK YOUR FLIGHTS
To travel around the Philippines, there are 3 local commercial airlines. Cebu Pacific Air, AirAsia and Philippine Airlines. Smaller airlines called AirSwift (El Nido, Boracay) and Royal Air also fly to limited destinations. Book your local flights here.
For international flights, I found Kiwi and Trip.com have cheaper flight options to the Philippines.
BOOK YOUR ACCOMMODATION
There are many choices of hotels, hostels, apartments and guesthouses to stay in the Philippines. Book through AGODA for the cheapest options and Booking.com. I also use Hotelscombined to see all prices from different websites to choose from.
BOOK YOUR BUS/FERRY/VAN/CAR
The Philippines can be difficult to go around because many buses, ferries and even private vehicles are offline. The best websites to book them are through Bookaway.com and 12GoAsia – they have many partners in different destinations and you can purchase tickets online.
Car rentals are also available for you to choose from here.
BOOK YOUR PACKAGE TOURS
If you don't know where to go and just want a hassle free trip to the Philippines, you can find package trips to different destinations with Klook – I recommend them for local tours and activities or Get Your Guide.
DON'T FORGET YOUR TRAVEL INSURANCE
It is very important to be safe and ready whenever accidents happen, especially in the Philippines where some places don't have quality hospitals and clinics. I use Safety Wings for whenever I travel in the Philippines or abroad.
Have you got any questions about traveling to the Philippines? Join our Philippines Travel Planning FB Page to get your answers.
Don't know how to start planning your Philippines trip? You can start here.
How Helpful is this Post?
A digital marketing VA and been traveling to interesting places around the Philippines since high school.