Are you planning to have a unique getaway? El Nido is a perfect destination! It is a fantastic vacation spot for all types of travelers and vacationers from all over the world. This magnificent haven, which is located in the northern portion of Palawan Island, offers a variety of water activities such as snorkeling, scuba diving, kayaking, island hopping, and more.  A great place to splurge, relax, and be away from the hectic life of the city. 
El Nido, Palawan is consistently ranked as one of the top island destinations in the Philippines, karst cliffs of limestones – similar to those found in Ha Long Bay, Krabi, Thailand, or Vietnam – secret lagoons, caves, waterfalls, coral reefs, and a plethora of different marine life abound.
Related Read : Palawan Travel Guide
So to enjoy the area, we've listed down the 10 best El Nido Luxury Resort Accommodations that you can stay and enjoy.
Comparison of the 10 Best El Nido Luxury Resort Accommodations
The main island has an 800-meter beach with plenty of space to explore, especially at low tide. Just a boat ride away are a number of other small islands and islets that offer private beaches and even sandbars where you can spend the day with your loved ones.
You will receive first-rate, uniquely customized services. Luxury villas with breathtaking ocean and mountain views are available at this eco-friendly resort. It has a sizable infinity pool that faces the beach, a modern fitness facility, a spa, outdoor showers, a restaurant, and some villas have daybeds on the balcony.
Click here for the latest room prices
Address : Bacuit Bay, El Nido, Palawan
Best Part?
A peaceful setting at the resort allows guests to unwind during their trip without being bothered. The beach is regularly cleared of algae and corals, and visitors adore how spotless it is.
Worst Part?
The resort does not have rooms with private pools.
Summary
If you need a more secluded resort experience while still being close to recreational activities, Cauayan Island Resort & Spa is here!
A paradise located in a cove, El Nido Resorts Lagen Island (Luxury) provides you the opportunity to connect with nature and wildlife or perhaps sit back and relax on the beach and look at beautiful sunset views. The resort also has first-class conveniences like a library, a bar, a restaurant, a spa, and an outdoor pool
The resort provides three different kinds of lodging, including cottages on the water, cottages in the forest, and cottages on the oceanfront. The hardwood furniture in each cottage room is matched with floor-to-ceiling glass doors that connect to a private deck with views of the beach. Along these, visitors can take part in popular tourist attractions such as snorkeling, kayaking, and scuba diving. The resort also provides free shuttle services to and from the airport.
Click here for the latest room prices
Address : Lagen Island, El Nido, Palawan
Best Part?
Both the scenery and the staff are first-rate. The breakfast buffet puts guests and visitors a smile on their faces.
Worst Part?
The area lies on the edge and is quite a distance from Lagen Island.
Summary
Everyone can have a great break at the resort, especially nature lovers. Undoubtedly, this is among the best in El Nido!
Matinloc Resort is a five-star beachside resort. For families, couples, and business travelers, it guarantees luxury comfort villas and suites. While some are on the beach close to the infinity pool, some properties are located on limestone cliffs or trees. The panoramic views of the ocean, mountains and the exclusive white sand beach are all accessible to guests.
Aside from sun loungers next to coconut trees and a massage facility, services include a restaurant, conference room, bar, gym, and library with books and laptops. In addition, snorkeling, island hopping, and kayaking are available to guests.
Click here for the latest room prices
Address : Matinloc Island, El Nido, Palawan
Best Part?
The resort has large villas that come with very nice views. The exclusive location makes it less crowded
Worst Part?
Some say the resort does not provide a Puerto Princesa airport to Matinloc Resort hotel roundtrip transport service. This is a big convenience for guests if there is any.
Summary
Matinloc Island Resort is an excellent haven if you seek to enjoy a private vacation with your family.
Plan your itinerary ahead. Here are some ideas on what you can do in Palawan.
Seda Lio Resort is a stunning beach resort that is located 20 minutes from the town center. Cozy accommodation with contemporary services is available in this 5-star hotel. The room features a large living area, a balcony, and an attached bathroom with a bathtub.
In addition to a small kitchen and enlarged balcony, the Seda Suite features a separate living room and dining area. There are also 2 pools, a lovely restaurant, a gym, a spa, a game room, a children's room, and a playground. Guests can also engage in water sports like kayaking, island hopping, scuba diving, and sailing here. Seda Lio offers one of the largest pools among the finest resorts in El Nido.
Click here for the latest room prices
Address : Lio Tourism Estate, Villa Libertad, El Nido, Palawan
Best Part?
Seda Lio Resort is a family-friendly resort. The entire resort is also clean and well-maintained.
Worst Part?
Some guests said reception and housekeeping could be improved.
Summary
Seda Lio Resort is a good choice for those who want to enjoy the beachfront and maintain exclusivity.
At Vellago Resort, live a fascinating life of luxury! This little beachfront resort is located on Seven Commandos Beach and has six opulent rooms. Every room has a king-sized bed with a mosquito net, a private balcony, an en-suite bathroom with a bathtub, and a sofa bed.
The romantic meal that is set up on the beach with torches and candles blazing is one of the resort's highlights. You can savor your breakfast or lunch in a beach cabana while marveling at stunning views from the balcony. Visitors can use the bean bags, cabanas, and sun loungers on the beach. Snorkeling and island hopping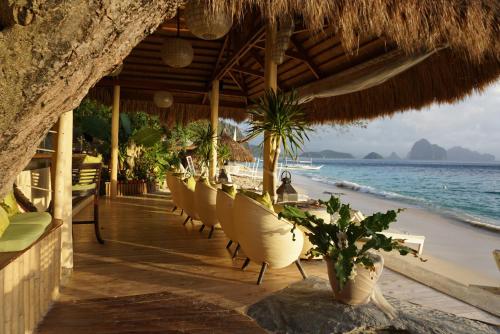 Click here for the latest room prices
Address : 7 Commando Beach, El Nido, Palawan
Best Part?
The exclusive villas with private pools are really perfect for honeymooners and families with kids. Many guests also appreciate the kind staff of Vellago Resort.
Worst Part?
The restaurant's menu can be updated so that guests can have more choices. Not all staff can answer all your questions.
Summary
Vellago Resort is truly perfect for a romantic getaway. The food service, friendly staff, and stunning ocean view highlight the mood of every guest and individual.
Karuna El Nido Villas offers all resort-style luxuries, including an infinity pool, a restaurant, a sunset deck/bar, security, and other services, to ensure a luxurious travel experience. The unparalleled Villas, Joglos, Studios, and Lumbungs at Karuna El Nido Villas are available to locals and tourists who want to experience the serenity of El Nido and its Bacuit Bay. From wood to marble, tiles, and paintings, every unit is made entirely in Indonesia and Bali and imported into the country. Each unit in our boutique resort has its own breathtaking gorgeous views since it is located on a Hill, not on the coastline but just 150 meters (from the property's highway) from Corong Corong beach.
Click here for the latest room prices
Address : Corong Corong, El Nido, Palawan
Best Part?
The village is close to the city's center and up a hill; this should take you at least 5–10 minutes to walk there from the main road. Or, you can also wait for the free shuttle service offered by Karuna.
Worst Part?
According to some guests, service was a bit slow and some of the rooms has cobwebs and a mark of the water-damaged ceiling.
Summary
The quality of the food, the romantic scenery, the helpful personnel, and the breathtaking ocean view boost the guest's morale.
El Nido Resorts Miniloc Island
A peaceful and captivating getaway that brings to mind images of a coastal village is Miniloc Island. It is situated in El Nido, which is in Palawan's northwest. El Nido can be reached by direct flight from Manila in 75 minutes or by land in 6 hours from Puerto Princesa City, the capital of Palawan. Miniloc Island Resort is hidden in a picturesque cove surrounded by soaring limestone cliffs and a living coral reef. It serves as a gateway to well-liked recreation areas in a gorgeous area famous for its rich biodiversity. There are 50 classic Filipino-designed cottages and rooms at the resort, which are either situated over water, next to a beach or in the midst of a garden and limestone cliffs.
Click here for the latest room prices
Address : Miniloc Island, El Nido, Palawan
Best Part?
The Big Lagoon is relatively near to the Island, diverse activities are available, and the front beach is suitable for kayaking and snorkeling. 
Worst Part?
There are no language problems, however, the resort staff is unfriendly. Food is neither good nor bad.
Summary
Renowned as the best eco biodiversity, with Blue green clear waters and amazing rock formations. This is a one-of-a-kind resort.
Outspokenly hidden and undeniably exclusive, Lihim Resorts is the low-key destination of choice for the discerning visitor. Lihim Resorts in El Nido, Palawan exposes a unique tropical resort, integrating the mind, body, and senses into this tropical getaway. This opulent location offers a refreshing and uplifting trip experience. Your experience at Lihim will forever be engraved as among the most cherished memories, from healing sanctuaries tucked away in the midst of the forest to immaculately bare seashore sands and starry nights on mountaintops.
The property's design was influenced by Philippine architecture and integrates almost flawlessly with the island's tropical lush forest surroundings. In keeping with the warmth and style of hospitality unique to the island, villas are constructed in the form of nipa huts. The 16 villas at Lihim are all distinctly secluded to provide tourists with unrivaled privacy and tranquility. At Lihim, wellness, environmental responsibility, community, and wellness come together to create a singular tropical retreat.
Click here for the latest room prices
Address : 999 Sitio Caalan, Brgy. Masagana, El Nido, Palawan
Best Part?
The personal butler experience is one of the unique things that you can experience in Lihim Resorts. The staff were also helpful and accommodating.
Worst Part?
A bit pricey, according to visitors.
Summary
The place is very secluded and rests assured that you will have the whole place almost to yourself. No wonder it is called Lihim as in Filipino dialect as secret. A perfect getaway!
Buko Beach Resort has been acknowledged as travelers' first option. The  Grand Villa (4 bedrooms for groups and families) and six unique cottages (for 2 adults 12+ years) have been designed and built with local materials, local Filipino craftsmanship, and attention to a unique design that is the hallmark of the "Buko" experience. They are situated between the lush, jungle-clad mountains and the beautiful beachfront of Corong Corong.
Buko Beach Resort is surrounded by tropical vegetation, karst limestone cliffs, and the incredible beaches, islands, and lagoons that lie within Bacuit Bay. We want to show you these natural treasures while also giving you the level of courtesy, peace, and calm you deserve.
Click here for the latest room prices
Address : Lot 10, Sitio Lugadia, Corong-Corong,, El Nido, Palawan
Best Part?
Buko Beach is only 10 mins away from town. The staff was helpful and accommodating. Add some nice cocktails from the bar and beautiful sunsets and you have yourself a winner.
Worst Part?
According to guests, every night at 4 am roosters start to crow, and dogs fight. You can hear absolutely everything around you in the rooms including the people talking.
Summary
Palawan is frequently voted the most beautiful island in the world, and this resort is located in one of the most stunning areas of Palawan.
This 2-star beachside property, among the finest hotels in El Nido, is a short stroll from Panorama Resort. The Frangipani offers roomy suites with stunning beachfront views and an outdoor pool and bar. The 50-square-meter suite offers its own balcony with furnishings, its own en-suite bathroom, a safe, a king-size bed with a sofa, a giant TV, and bath amenities.
With the same amenities, the one-bedroom apartment with a living room may accommodate 4 guests. Breakfast is provided for free, and the ambiance is relaxed. If you're in El Nido, this resort is highly recommended for staying a couple of days.
Click here for the latest room prices
Address : Taytay – El Nido National Hwy, Sitio Lugadia, Corong-Corong, El Nido, Palawan
Best Part?
Conveniently located in a quiet place where one can really relax with the stunning sunset ocean view. Staff and personnel were also attentive and accommodating.
Worst Part?
Some guests say, there was an inconsistent lack of Wi-Fi connection.
Summary
Care and comfort best describes Frangipani El Nido Resort. A place you can call home.
Have you got any questions about traveling to the Philippines? Join our Philippines Travel Planning FB Page to get your answers.
Don't know how to start planning your Philippines trip? You can start here.
GO AROUND PHILIPPINES USEFUL TIPS AND LINKS
BOOK YOUR FLIGHTS
To travel around the Philippines, there are 3 local commercial airlines. Cebu Pacific Air, AirAsia and Philippine Airlines. Smaller airlines called AirSwift (El Nido, Boracay) and Royal Air also fly to limited destinations. Book your local flights here.
For international flights, I found Kiwi and Trip.com have cheaper flight options to the Philippines.
BOOK YOUR ACCOMMODATION
There are many choices of hotels, hostels, apartments and guesthouses to stay in the Philippines. Book through AGODA for the cheapest options and Booking.com. I also use Hotelscombined to see all prices from different websites to choose from.
BOOK YOUR BUS/FERRY/VAN/CAR
The Philippines can be difficult to go around because many buses, ferries and even private vehicles are offline. The best websites to book them are through Bookaway.com and 12GoAsia – they have many partners in different destinations and you can purchase tickets online.
Car rentals are also available for you to choose from here.
BOOK YOUR PACKAGE TOURS
If you don't know where to go and just want a hassle free trip to the Philippines, you can find package trips to different destinations with Klook – I recommend them for local tours and activities or Get Your Guide.
DON'T FORGET YOUR TRAVEL INSURANCE
It is very important to be safe and ready whenever accidents happen, especially in the Philippines where some places don't have quality hospitals and clinics. I use Safety Wings for whenever I travel in the Philippines or abroad.
Have you got any questions about traveling to the Philippines? Join our Philippines Travel Planning FB Page to get your answers.
Don't know how to start planning your Philippines trip? You can start here.
How Helpful is this Post?
A digital marketing VA and been traveling to interesting places around the Philippines since high school.