Camotes Island is one of the most popular island getaways from Cebu. It is actually comprised of a group of islands in the Camotes Sea, Philippines. They are Poro Island, Pacijan Island, and Ponson Island are the three major islands while Tulan Island, which is part of San Francisco, is an islet. In order to help your trip there, we've compiled the top 10 best beach resorts to stay in Camotes Islands for all kinds of travelers.
Let's hop in!
Related Read: The Ultimate Travel Guide to Camotes Islands
Which Area to Stay in Camotes Island?
The best area to stay in Camotes Island is Santiago White Beach, also known as Santiago Bay. It is a cove perfect for swimming because of its crystal clear and shallow water. You can also find many resorts and guesthouses around this area. You can choose from below some of our recommendations.
Comparison of the Top 10 Best Beach Resorts to Stay in Camotes Island
You'll enjoy relaxing rooms that offer air conditioning, and you can stay connected during your stay as Aizawa Beach Resort offers guests free wifi.
The small hotel features a 24-hour front desk, shops, and 24-hour security. Aizawa Beach Resort offers breakfast, providing a pleasant respite from your busy day. For guests with a vehicle, free parking is available. When you're feeling hungry, be sure to check out Bamboo Cafe, which is a pub that is popular with locals and out-of-towners alike.
Address : Barangay Santiago, Camotes Islands
Click here for the latest room prices
Best Part?
Average Resort with reasonable rates. Nightlife is a stone's throw away. Very nice white sand beach. Rooms are okay and the resort staff is accommodating.
Worst Part?
Roosters that made noise all night – may have a hard time sleeping
Summary
Aizawa Beach Resort is a great place to bask in the sun with a white sand beach, sun loungers, and beach umbrellas. It is providing an ideal mix of value and convenience, it offers a romantic setting with an array of amenities designed for travelers like you.
Bano Beach Resort features something unique that is uncommon among destinations: a crescent beachfront. This sandy front wraps around a clear blue seawater lagoon, giving guests a big amount of space to swim in without heading out far from the beach. Also, the swimming pool is close to the lounging areas and the room, guaranteeing that you have access to anything you might need while you take a leisurely dip.  Water activities such as canoeing and stand-up paddle boating are also available for some quality time inside the resort. It tends to a garden that forms a wonderful harmony with the beach to provide an ultimately cleansing and relaxing stay.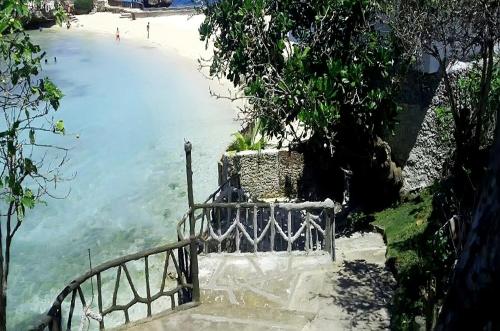 Address : Mangodlong, Himensulan, San Francisco, Camotes Islands
Click here for the latest room prices
Best Part?
The place was clean and nice. A good place to just sleep in.
Worst Part?
They have a limited menu but no restaurant area or you can eat in the room.
Summary
Some guests say the personnel is unprofessional, they do not even speak English.
Related Read: How to Get From Danao, Cebu to Camotes (2022)
Staying at Camotes Flying Fish Resort, visitors can check out San Fernando Rey Parish Church (1.8 mi), which is a popular Cebu Island attraction. Rooms here offer air conditioning providing exceptional comfort and convenience, and guests can go online with public wifi. If you like Italian restaurants, Camotes Flying Fish Resort is conveniently located near Antica Osteria, Master Kitchen Banilad, and Michaelangelos Pizzaria.
If you are interested in exploring Camotes Island, check out a waterfall, such as Bugho Waterfalls. Also, popular spots near Camotes Flying Fish Resort Poro Island include Timubo Cave, Maktang Beach, Camotes-oerne, among others.
Address : Brgy. Cagcagan, Poro, Camotes Island
Click here for the latest room prices
Best Part?
The people here were all very friendly. A very relaxing place.
Worst Part?
The wifi is very slow or sometimes none at all.
Summary
Camotes Flying Fish Resort is a great choice to consider when visiting Poro.  Ensures a pleasant stay for all travelers.
Camotes Island Ocean Heaven Resort
Camotes Ocean Heaven Resort has a bar, garden, terrace, and free WiFi. Offering a 24-hour front desk, this property also welcomes guests with a restaurant, a water park, and a year-round outdoor pool. Free private parking is available and the resort also features bike hire for guests who want to explore the surrounding area.
The rooms at the resort come with air conditioning, a seating area, a flat-screen TV with satellite channels, a safety deposit box, and a private bathroom with a shower, a hairdryer, and free toiletries. Also, rooms come with bed linen and towels.
American and Asian breakfast options are available each morning at the accommodation.
San Francisco proper is 11 km from Camotes Ocean Heaven Resort, while Compostela town is 36 km from the property. The property offers a paid airport shuttle service from Mactan Cebu International Airport.
Address : Mangodlong, San Francisco, Camotes Islands
Click here for the latest room prices
Best Part?
The staff was very friendly and helpful. The food was excellent.
Worst Part?
Some guests say bring cash as this is a cash-based island. No credit cards. Also, The loungers by the pool are hard metal with no cushions, they look good but you have to steal cushions from other chairs to use them. There are only 2 restaurants in the area.
Summary
Surely, when it comes to providing the best hospitality and gastronomic venues, Camotes Ocean Heaven Resort is one of the most trusted names among key players in Camotes.
Coco Grove Nature Resort and Spa
The property features a wide range of facilities to make your stay a pleasant experience. Daily housekeeping, Wi-Fi in public areas, car park, room service, and restaurant are just some of the facilities on offer. Designed for comfort, selected guestrooms offer internet access, non-smoking rooms, air conditioning, and a balcony/terrace to ensure a restful night. Take a break from a long day and make use of the outdoor pool, massage, billiards, and garden.
Address : Mangodlong, San Francisco, Camotes Islands
Click here for the latest room prices
Best Part?
A scuba diver guest says "The resort's dive shop is manned by excellent staff. My 2 dives at the house reef were so good, 3 turtles on the first dive and maybe 7 on the second."
Worst Part?
Nothing "not good" to say about this resort.
Summary
With 800 meters of white beach surrounded by turquoise water, Coco Grove Beach Dive and Spa Resort offer complete relaxation and rejuvenation. Enjoy a most pleasurable holiday surrounded by nature – from tropical gardens, crystal blue sea to spectacular marine life, and unbelievable sunsets all on a long white sandy beach – attended to by an excellent team known for their warm and authentic island hospitality. Coco Grove Nature Resort and Spa is an excellent choice from which to explore Camotes.
The 2-star Mangodlong Paradise Beach Resort is set 4.2 km to Santiago Bay Beach and 500 meters of Mangodlong Beach. The perfect hotel is within a 90-minute drive of Moalboal. The recreational beach is 700 meters away. Mangodlong Paradise Beach Resort is a 10-minute ride away from Paraiso Cave and other main attractions of the Camotes Islands.
Their Asian-inspired suite rooms are definitely worth the pay and will make you feel like some VIP. Well, you deserve it even for just a few days! They offer WiFi in public areas as well as 24-hour security and room service. On top of their well-designed rooms, Mangodlong has the island's only infinity pool. Just beside the pool is a bar to make your night swimming even better.
The very posh Bamboo Café let you experience fine dining and the Sunset Bar if you want some cocktails while sitting by the beach, listening to the waves. The view at night is awesome. Mangodlong Paradise Beach Resort also accepts large celebrations like birthdays and weddings. They can both cater to outdoor or indoor private events.
Address : Mangodlong, San Francisco, Camotes Islands
Check here for the latest room prices
Best Part?
Pet-friendly and the view are magnificent, highly recommended.
Worst Part?
No major concerns to say.
Summary
Mangodlong Paradise Resort will convert your dream Camotes getaway to a luxurious and surreal experience!
One of the best beach resorts and accommodations Camotes has to offer is Mangodlong Rock Resort or fondly known as Mangodlong to locals. It is a 10 minutes ride away from Paraiso Cave. Also, has a 2-hectare land area with a coconut-shaded garden close to the beachfront.
It offers one of the best snorkeling spots on the island and it has a PADI dive center that charges the standard fee of $25 per dive known as Ocean Deep. A strange-shaped swimming pool attached to each other for both adults and children gives another option for visitors to swim. Near the beach are tropical huts built on a coral islet. One hut on a wonderful rock formation now serves as the concept of the logo design of Mangodlong.
The entrance fee to Mangodlong for sightseeing is only P15.00 per person. The parking and the short stay at the cottages are free. Snorkels are available for rent to both check-in and non-check-in guests at P250.00 for half-day use. Life jacket use is at P50.00 for a half day while fins and booties can be rented at P250.00 for half day. Just be sure not to lose the borrowed gadgets so you won't pay a large amount.
Address : Mangodlong, San Francisco, Camotes Islands
Check here for the latest room prices
Best Part?
The place was super relaxing and the staff was very accommodating.
Worst Part?
They a lot of day trippers coming in and sometimes they were quite noisy.
Summary
At Mangodlong, one can experience the wonderful sunset of Camotes. The warm color of the sun and the reflection of the beach make it very spectacular during the afternoon at this resort. If you are planning to visit Camotes, Mangodlong Rock Resort is one of your best options!
Maximize your Cebu adventure with a stay at Azure Camotes Resort Hotel. Stay connected throughout your stay with free internet access provided. Parking is provided for guests by the resort. Wear your favorite outfits again and again thanks to the laundry service offered at Azure Camotes Resort Hotel.
The resort is entirely non-smoking. Smoking may only take place in restricted designated areas. To enhance your stay, some rooms at the resort come with linen service and air conditioning. The specially-designed rooms at Azure Camotes Resort Hotel offer a layout option like a balcony or terrace. Some rooms have a television to keep guests entertained.
Throughout your stay, choose from a variety of delicious dining options at the resort. Be sure to check out the bar for some in-house nighttime fun.
Looking for a way to unwind after a hard day? While you're here, be sure to take some time to explore the easily accessible beach. Warm up at the end of the day with a visit to the massage. The resort's on-site pool invites you every day for a cooling dip. Stay wet and wild with fun family water activities like fishing. You won't need to go far to experience fun water sports, with the convenience of boats provided.
Address : Esperanza, San Francisco, Camotes Island
Check here for the latest room prices
Best Part?
This place is huge and has so much to offer. The staff is extremely friendly and their chef is an amazing cook.
Worst Part?
Half of the railings that face the sea are missing and it gives a feeling of insecurity.
Summary
Truly a wonderful experience staying at this hotel. Travelers are guaranteed to have a hassle-free stay with all the amenities and awesome services provided.
My Little Island Hotel is a 3-star hotel located about 3.5 km from Tulang Diot Island and a 10-minute drive away from Bukilat Cave and 2.8 miles from Poro Municipal Hall. One of the tourist attractions named Camotes-oerne is a short drive away. 
The history of this hotel dates back to 2008.
The facilities and services you can avail yourself of are as follows: Palm Restaurant & Piano Bar, Celebrity Hall Function Room, Business Office, Souvenir Shop, Spa and Therapeutic Massage, Nirvana Beauty Salon, Outdoor Swimming Pool, and Medical Services & Clinic.
If you really want to explore further what this island can offer, tours & excursions are available upon request and arrangement at the front desk attendant. The tour and excursion totally depend on your request and arrangement with the front desk manager. You may choose from doing seawater activities, such as snorkeling, swimming, diving, and island hopping. Another thing you can enjoy is visiting nice places and sites on the island. It itself is bedecked with natural sites including the Bukilat Cave, Timubo Cave, Lake Danao, waterfalls, mangroves areas, hills, Buho Rock resort, and untouched beaches surrounding the islands. The hotel can provide you with vehicles that could bring you to places you wanna see, and they will arrange with other service providers any activity you may request. It is definitely great, isn't it? 
Address : Esperanza, Poro, Camotes Islands
Check here for the latest room prices
Best Part?
Very refreshing and the staffs were very helpful. The balcony has a very nice view.
Worst Part?
One guest says, "The place needs updating but is well-planned from the arrival experience and sea views from common areas of the hotel such as the reception, restaurant, and pool area."
Summary
Claiming to be the first and only true hotel on the beautiful island of Camotes, enjoy your stay in one of the best resort hotel destinations not only on the island but in the Philippines. My Little Island Hotel has everything you might possibly need while staying at this hotel comfortably.
Santiago Bay Garden and Resort
Santiago Bay Garden and Resort is the most interesting place to be when traveling to Camotes. It is a wonderful seaside hotel that complements the beauty of Santiago Beach. It is between landscapes that thrive with various flora, the pristine white sand beach, and the blue ocean. A perfect getaway!
They offer activities that will bring out everyone's adventurous side. Small caves are hidden within the island and can be easily explored with a guide. Kayaks and floating cottages are available for rent for those who want to enjoy more of the sea and the beach. Guests may even play beach volleyball on the fine, white sands of Santiago Beach.
Address : Santiago, San Francisco, Camotes Island
Best Part?
The rooms and food are reasonably priced for what you get. It is clean, has a nice beach area to explore, a large area, and a nice pool.
Worst Part?
One guest says, "The restaurant is open only until seven pm. Likewise, the pools. We checked at about five thirty leaving little time to eat, and no time to swim. Strange design. There was a cement column in the middle of the rear area of the room."
Summary
Definitely Santiago Bay and Garden Resort is a famous destination in Camotes Islands but none of that really matters if you're not there to experience them. They ensure that guests experience those reasons for themselves and receive only the best from the island.
Join our Philippines Travel Planning FB Page 
Don't know how to start planning your Philippines trip? You can start here.
Did we miss anything else? Let us know in the comments!
GO AROUND PHILIPPINES USEFUL TIPS AND TRICKS
BOOK YOUR FLIGHTS
To travel around the Philippines, there are 3 commercial airlines. Cebu Pacific Air, AirAsia and Philippine Airlines. Smaller airlines called AirSwift (El Nido, Boracay) and Skyjet also fly to limited destinations. Personally, I use Skyscanner and Traveloka to get cheaper flights around the Philippines.
BOOK YOUR ACCOMMODATION
There are many choices of hotels, hostels, apartments and guesthouses to stay in the Philippines. Book through AGODA for the cheapest options and Booking.com. I also use Hotelscombined to see all prices from different websites to choose from.
BOOK YOUR BUS/FERRY/VAN
The Philippines can be difficult to go around because many buses, ferries and even private vehicles are offline. The best websites to book them are through Bookaway.com and 12GoAsia – they have many partners in different destinations and you can purchase tickets online.
BOOK YOUR PACKAGE TOURS
If you don't know where to go and just want a hassle free trip to the Philippines, you can find package trips to different destinations with Klook – I recommend them for local tours and activities or Get Your Guide.
DON'T FORGET YOUR TRAVEL INSURANCE
It is very important to be safe and ready whenever accidents happen, especially in the Philippines where some places don't have quality hospitals and clinics. I use Safety Wings for whenever I travel in the Philippines or abroad.
Have you got any questions about traveling to the Philippines? Join our Philippines Travel Planning FB Page to get your answers.
Don't know how to start planning your Philippines trip? You can start here.
How Helpful is this Post?
A digital marketing VA and been traveling to interesting places around the Philippines since high school.