Cheap isn't necessarily uncomfortable and budget travel is always possible in the Philippines! This is especially true in my home island, if you want to stay around Tagbilaran City, the capital of Bohol Province, then you can do so without breaking the bank. If you're a first-time visitor, it can be confusing to decide where to stay in Bohol. So here is a list of affordable and cheap hotels in Tagbilaran City that you should check out if you're visiting my hometown, Bohol.
Read: 31 Best Things to do in Bohol
If you're feeling more generous and would love to experience the best Bohol luxury resorts accommodation, then make sure you find the perfect one for your tropical holiday!
How to get from Manila or Cebu to Bohol
Cebu is a 2-hour fast ferry ride from Tagbilaran City. There are 3 fast craft ferries sailing this route. Supercat, Weesam and Oceanjet have at least 5 trips every day. One way tickets cost 500 pesos and sometimes a round-trip promotion of 600 pesos is available. If you prefer to save money, you can take the slow overnight ferry; Cokaliong or Transasia Shipping that usually leaves at 11pm and arrives in Cebu at 4am. Tickets cost between 250-300 pesos. From Manila to Bohol, flights from Cebu Pacific, Air Asia, and Philippines airlines are available every day. Prices vary depending on availability and advance booking, but flights generally start from 1000 pesos to 1500 pesos. Booking in advance or taking advantage of promotions can yield cheaper tickets, conversely, booking late or on the day will lead to more expensive tickets. You can also read all the best ways to get from Cebu to Bohol here.
Comparison of Affordable Hotels in Tagbilaran City
1. Metrocentre Hotel and Convention Centre
Metrocentre is one of the best located hotels in Tagbilaran City because it is along the main city road. Although it is not a cheap hotel in Tagbilaran City, you can really get value for money when you book here. You are within walking distance to restaurants and shopping malls. They also have convention rooms, 72 rooms from standard to presidential suites and also an Atmosphere bar that's good for nightlife. It is a mix of oasis of comfort and relaxation.
Rooms start from 1,200 for standard rooms with breakfast included. Check here for more information.
2. Soledad Suites
Soledad Suites is a boutique hotel with an on-site restaurant, 20 well-appointed guestrooms and great location to go around the city of Tagbilaran City. Whether on business or leisure, this will be a good choice for a place to stay in Tagbilaran, Bohol. The rooms are ample in size and the facilities are just enough for vacationing groups. There is free wifi in the hotel too. The place is not along a major thoroughfare but that is also a blessing since there is less noise from the motorized pedicabs. 
Rooms start 1,500/night up. Check here for more information
3. Kew Hotel
Kew Hotel is located in the center of Tagbilaran City, just a few steps away from Island City Mall. It is the newest hotel in town. Flanked with fabulous native- inspired lightning and interior design, the hotel lobby gives you the homey feel right away. You can feel this is much of a home for tourists than a hotel.
It has 59 rooms it includes the Standard rooms, Deluxe, Deluxe Corner and stunning Suite Rooms and also has five function rooms for meetings, weddings, birthdays and many more. Another great nook to unwind is Cafe Melecia at the ground floor and a Bar and Lounge at the 7th floor called Sky7. Check here for more information.
4. The Gabriella Bed and Breakfast
Designed for both business and leisure travel, The Gabriella Bed and Breakfast is ideally situated in Tagbilaran. It has  spacious rooms with complete facilities. This is a small place but packed with great hospitality, clean well-appointed rooms and amazing breakfast.
Rooms start at 1,400 per night. Check here for more information
 5. Belian Hotel
A new hotel located close to Tagbilaran seaport but still accessible to other restaurants and a few minutes drive to shopping centers. It has an in-house café and open top floor where you can dine and view the seaport and the neighboring Panglao island. Room rates start at 1,700 pesos per night for a standard room.
A very nice and a pleasant place to stay if you are in Tagbilaran City. Location is very near to the malls and convenient store just incase you need to buy some personal things. Staff are courteous and very attentive to all the guests needs. All toiletries and bottled water are replenished everyday. They also clean and make up the bed everyday.
Check here for more information.
6. Dao Diamond Hotel and Restaurant
This hotel prides itself on offering luxury on a budget. Dao Diamond Hotel and Restaurant is a tropical oasis of rest and relaxation in the midst of a busy city. Close to the Tagbilaran airport, restaurants, shopping, and sightseeing, this is a good location to enjoy all that Bohol has to offer.
Guests of the hotel can enjoy on-site features like airport transfer,  free Wi-Fi, air conditioning, private bathrooms with hot/cold showers, and satellite/cable TV. The hotel's recreational facilities include a fish foot spa, garden, starlight dining, outdoor swimming pool with a separate pool for kids, guided tours, game room, and music rooms. Rates start at a promotional price of 1,500 pesos up. Check here for more information.
7. TR3ATS Guesthouse
TR3ATS Guest House is for young travelers, backpackers, and business professionals who are in search of an affordable alternative to a hotel. This is one of the cheap hotels in Tagbilaran City. It offers dormitory style accommodation which is available at 350 pesos per night while private rooms start at 900 pesos. The more expensive end, a family room can be had for 1,600 pesos per night. The Tagbilaran City hotel has a swimming pool and provides motorbike rental. If you are coming with your family, then it's a good place to stay too. Check here for more information
8. 717 Cesar's Place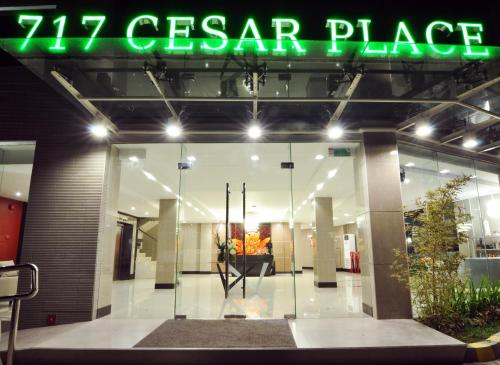 717 Cesar Place Hotel and AÏOLI Cafe and Restaurant is a fresh take on the Bohol travel and food scene.  It offers free transfers to and from the seaport or airport. The location is just along main street and a few minutes ride to the downtown area. It also has a more modern hotel with quaint and stylish lobby and interior.
Room rates start at 1,280 pesos for a superior room for one person with free breakfast. Deluxe twin rooms for two people are available at 1,780 pesos. Check here for more information.
9. Arabelle Suites
Arabelle Suites is a nice place to stay in Tagbilaran City for a short time or just to get an overnight place to stay. It doesn't provide much in terms of facilities but it has rooms and basic things needed provided. It really is a good value for money if you only need a place to stay for the night.
Rooms start at 1,100 per night with basic rooms. Check here for more information.
10. Bohol Tropics Resort
If you're looking for a hotel in Tagbilaran City which is near the airport and pier with a swimming pool, then this hotel is the perfect place for you. This hotel/resort may not be really cheap but it will make up for its location and facilities in the middle of the city. This elegant resort consists of over a hundred well-appointed rooms, all with either pool, garden, or bay views. Situated along the picturesque Tagbilaran Bay, the Deluxe Horizon Suites have a veranda that offers a perfect spot to capture magnificent sunsets. Accommodation ranges from comfortable suites to reasonably-priced standard rooms.
They also offer roundtrip hotel transfers from Tagbilaran City airport/ seaport to the hotel and vice versa. Guests can also use hotel facilities like swimming pools, basketball court, tennis court, internet access at the front desk and children's playground. Standard room starts at 2,300/night with breakfast. Also complimentary entrance to Lazer Party Club and Club J Karaoke Bar. Check here for more information.
So if you're asking yourself where to stay in Bohol or looking for a cheap place to stay for your family, then the list should help you decide. Have you tried one of these hotels? Tell us in the comments about your experience!
Have you got any questions about traveling to the Philippines? Join our Philippines Travel Planning FB Page to get your answers.
Don't know how to start planning your Philippines trip? You can start here.
Read all our travel planning articles about Bohol here.
For more CHEAP hotels in Tagbilaran City, explore more of the different booking sites.
How Helpful is this Post?
Angie is a travel consultant and blogger who has started by writing her travel memoirs on her blog and then got published  on international travel sites. She's now focused on creating in-depth travel itinerary and articles about planning trips to the Philippines.