Planning on your next vacation? For sure a beach trip sounds really nice for a lot of us. There are just a lot of things you can do by the beach. It could be relaxing by the shore with your favorite drink or doing your favorite watersports activity all day. But aside from all that, waking up to the sound of the ocean waves is just so relaxing on its own, isn't it? That is the reason why a lot of people prefer to stay in beach resorts when on a vacation.
Known for its beautiful beaches, it is no surprise that you can find a lot of beach resorts in the Philippines. In fact, here are the top 13 Best Beach Resorts to Stay in the Philippines.
Related Read: Top 20 Best Things To Do In The Philippines 2022
Comparison of Top 13 Best Beach Resorts to Stay in the Philippines
Top 13 Best Beach Resorts to Stay in the Philippines
Address: Agujo, Daanbantayan
Kandaya Resort is located in a secluded spot in North Cebu. It takes approximately 3 hours to drive from Cebu City to Daan Bantayan. If you want to commute, you can also take the bus from the North Bus Terminal in Mandaue City and hail the bus going to Daan Bantayan. Do not be confused with "Bantayan Island" though because these two are different locations. Bantayan Island is a separate island while Daan Bantayan is still part of the mainland. Anyway, getting to Kandaya Resort is not a problem since it is just located along the highway so you can easily find it. If you want a more convenient option, Kandaya also offers pickup/dropoff services via Van or Helicopter.
This luxurious destination in Cebu is nestled on a white-sand beach which seems like a picture-perfect postcard. Aside from being a vacation resort, it also hosts several wedding and private events. In fact, many people include it in their list of the top 13 best beach resorts to stay in the Philippines. It is even hailed as one of the most romantic beach resorts in Southeast Asia.
Click here for the latest room prices
The resort has several guest rooms and villas that you can choose from. The popular ones are the Villas where you can have your private swimming pool. Some activities you can do in the resort are kayak, jetski, or Hobie Cat. Kandaya also has a private beach cove on Malapascua Island where you can book for a diving tour and day trip.
Best Part?
Kandaya Resort has a wide selection of rooms that can accommodate various types of travelers. Their villas give exclusivity to those who want to enjoy their vacation all to themselves. The world-class service of the resort from the pickup service to the checkout process is also very admirable. They truly have professional staff to accommodate every guest's request.
Worst Part?
Some guests have feedback that the food is bland. Some areas of the resort also have a lot of mosquitos.
Summary
If you're looking for a romantic getaway in Cebu, Kandaya Resort is perfect for you.
Related Read: Top 15 Best Resorts to Visit in the Philippines.
Address: Barangay Yapak, Malay, Aklan Province
Shangri-La Boracay is also a popular beach resort in the Philippines and was awarded as one of the Best Resorts in Asia in Conde Nast Travelers' 2021 Reader's Choice Award. It is best known to provide luxurious and comfortable services in one. This 12-hectare resort has 219 rooms which include 36 villas and suites which showcase a contemporary style with Filipino accents. Each room has a spacious balcony with a daybed. If you want close proximity to the shore, the premier sea view room is perfect for your preference. Shangri-La Boracay also has a Villa Collection like the Treetop collection, Poolside collection, and Oceanview sanctuary collection. The treetop villas are located above the resort where you can have a 360 view of the hills, the ocean, and the sunset. The poolside villas have direct access to the beach and the resort's main pool. Lastly, the oceanview villas are located near Spa village. It also has direct beach access.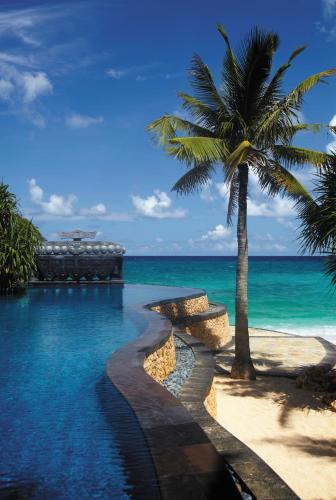 Shangri-La Boracay also serves international gourmet in its main restaurant, Vintana Asian Cafe. Its signature dishes include Filipino Fresh Native Spring Roll and Chinese Kung Pao Chicken. There is also another dining option in the resort and you can find it nestled on a clifftop that overlooks Boracay's crystal water. This restaurant is Sirena Seafood restaurant. From the name itself, it specializes in the seafood platter. This restaurant also has a bar where you can enjoy herb cocktails and other concoctions.
Click here for the latest room prices
Best Part?
Shangri-La Boracay's treetop villas are a must-try if you want a good view of the entire resort. Vintana's food selection is also loved by many guests saying that the food tastes a lot better than the Shangri-Las located in EDSA, BGC, and Makati.
Worst Part?
Located quite far from the tourism center and White Beach.
Summary
Shangri-La Boracay is perfect for those who want to stay away from the busiest part of Boracay which is usually near White Beach.
Dusit Thani Mactan Cebu Resort
Address: Punta Engaño Rd, Mactan Island, Lapu-Lapu City, 6015 Cebu
Dusit Thani features 272 guest rooms and luxurious suites. They have rooms with sunrise views and rooms with views over the Magellan Sea. If you are staying in a Dusit Club Room, your privileges are enhanced and you can also get access to the Dusit Club Lounge. Among your Dusit Club privilege are private check-in and check-out, private meeting room access, and a lot of dining perks from breakfast to dinner.
Click here for the latest room prices
Speaking of breakfast and dinner, the resort has it on-site restaurant called The View. It is a stylish open-air lobby which is overlooking the blue waters of the infinity pool and the Magellan Sea. The live band also completes the overall vibe of the place. Tradewinds Cafe, on the other hand, is located on the Ground Floor (Cebu Wing) terrace where you can enjoy buffet meals from breakfast to dinner. They serve Filipino foods and a panoramic view of the ocean. Don't forget to wear casual and smart casual when dining here. Sunset Bar, on the other hand, is a sports bar located also in Cebu Wing GF. It is perfect for poolside lunch or catching the sunset while sipping a glass of your favorite drink. If you are craving Thai foods, Benjarong serves a blend of traditional tastes and modern culinary techniques which are prepared in an open kitchen. This restaurant opens during lunchtime from 12 NN to 2:30 PM and reopens during dinner from 6 PM to 10 PM. Lastly, The Deli offers freshly-baked goods and sweet treats which can be paired with various coffee flavors, milk teas, smoothies, and frappes.
Best Part?
The ambiance and the staff are excellent. Many people also liked the breakfast buffet.
Worst Part?
The location is quite far and there are no convenience stores or cheap restaurants nearby.
Summary
Dusit Thani is perfect for couples and families. They let you experience authentic Thai hospitality.
Address: Station 1, Malay, Aklan Province 5608 Philippines
Two Seasons Boracay Resort presents a blend of tropical urban and Zen minimalist design. It has 34 rooms and suites which can accommodate various types of guests. You can choose among its 10 Standard Rooms, 9 Deluxe Rooms, 8 Family Suites, 4 Junior Suites, and 2 Seaview rooms. The Presidential Suite, or the Suite Heaven, can offer a more luxurious experience with its private verandah and infinity pool.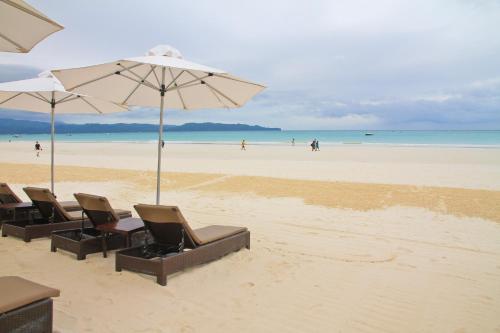 If you want to do some island activities and some water sports, the resort can also arrange these activities for you. They can also arrange roundtrip land and sea transfers, flight booking, and rebooking.
Click here for the latest room prices
The resort has its own restaurant and that is no other than BarLo Resto Lounge. They serve the most delectable Four Cheese Pizza and Oyster Sisig in all of Boracay. Aside from that, it is located right at the beachfront and has become one of the favorite dining spots on the island.
Best Part?
I love that Two Seasons Boracay has different rooms for various types of guests since Boracay is a very popular destination not just for couples but also for families. The Four Cheese Pizza is also very cheesy which a lot of customers loved.
Worst Part?
Steep price according to some guests.
Summary
If you want to stay in the best part of White Beach Boracay, this place is perfect for you. You can even bring your friends or family since they have rooms for every type of guest.
Address: Barangay Doljo, Panglao, Bohol, 6343 Philippines
The Bellevue Resort in Bohol offers a private sanctuary to its guests. It is an ASEAN Green Hotel awardee which means that it practices eco-friendly principles and energy conservation measures to achieve sustainable tourism.
Bellevue has 158 modern and trendy rooms. Each room features a blackout curtain, air-conditioning, a cable/satellite TV, a private bath/shower, a minibar, and a coffee/tea maker. The resort also offers a wide selection of recreation such as an infinity pool, a dive pool, a Spa, a children's play area, and a gym.
Click here for the latest room prices
If you want to savor Filipino and international cuisines, the foods served in Lamian World Cuisine are a good choice. They also have a la carte dishes which include gourmet sandwiches and refreshing drinks. Guests can also choose to eat indoors or by the poolside. For some seafood treats, you can also dine in Marea Al Fresco Dining. They have fresh seafood which you can enjoy on the seafront. Complete your meal with a glass of wine and you're good to go.
Best Part?
The rooms in Bellevue are nice but what guests love is the kid-friendly pool. The resort also has a play area and interactive activities for kids like feeding the koi.
Worst Part?
Some guests are complaining about the food.
Summary
Bellevue Resort is perfect for trips with family most especially with kids. They have a shallow swimming pool and beach which makes it safe for kids.
Address: Brgy. Bacong Sitio Dagohoy, Anda 6311 Philippines
Anda White Beach Resort is a small and tranquil resort that offers a white sand beach, crystal clear water, and endless sun. You can enjoy the breathtaking view surrounding the resort may it be in your room, by the pool, or while dining. The overall vibe of the resort is rustic yet modern.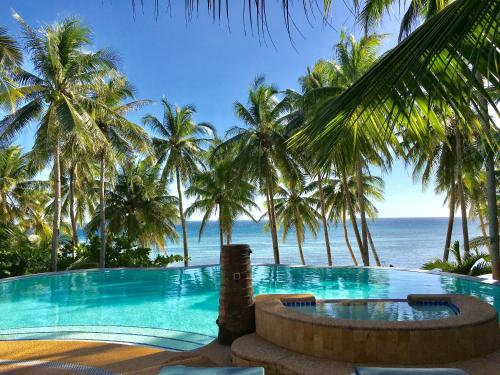 They have four types of rooms: Standard, Deluxe, Bungalow, and Family Room. For the Standard room, you can choose between 2 single beds or 1 double bed. This room can fit 2 people. If you want to travel in a group, the Family Room with the beach view is perfect for you.
Click here for the latest room prices
If you want to enjoy the evening, you can also grab some drinks at the Fizz Bar. Hearty local and international meals are also served at the resort's onsite restaurant or you can also have your food delivered to your room.
The resort is a 15-minute boat ride from Basdio Marine Sanctuary and a 30-minute boat ride from Lamanok Island. The airport is a 2-hour drive to Anda.
Best Part?
Anda White Beach Resort is located in a quiet location where guests can remain unbothered during their vacation. Guests also love the cleanliness of the beach which is being cleaned of algae and corals every morning.
Worst Part?
Wifi signal and Mobile Data are unstable.
Summary
If you want to stay in a very private resort while staying close to caves and other adventures, Anda White Beach Resort is perfect for you.
Address: Sumilon Island, 6025 Sumilon Island, Philippines
The Bluewater Sumilon Island Resort is located on a private beach on Sumilon Island. It is a Filipino-owned chain of resorts and has received the "2019 Certificate of Excellence" recognition from TripAdvisor.
The resort has 14 Deluxe rooms which have 2 queen beds in each room. They also have 14 Premier Deluxe Rooms which are 20 sq.m bigger than the ordinary Deluxe room. A One-Bedroom Villa which is located on the secluded cliffs within the island resort is also available and a Family Villa for families who want complete privacy and relaxation. The Villas have their private pool and a veranda overlooking the sea. Glamping is also available on the island for those who want a camp life experience. There are also other activities on the island such as trekking, biking, and cave tours.
Click here for the latest room prices
To get here, Sumilon Bluewater Resort is a 3 to 4 hours drive from Cebu City. You can also take a bus from South Bus Terminal to Oslob. Once in Oslob, you can take the resort transfers from Oslob to Sumilon Island.
Best Part?
Not only that the island has a white-sand beach, but the entire island is also filled with activities. There are scuba diving spots all around the island which makes it very ideal for scuba diving enthusiasts. Glamping is also one of the exciting things to look forward to in the resort.
Worst Part?
Due to its popularity, it could get crowded which takes away the secluded vibe of the place.
Summary
Bluewater Sumilon Island Resort is no doubt deserving to be in the top 13 best beach resorts to stay in the Philippines because it can accommodate intimate vacations and even casual trips with your friends. They have various rooms that are perfect for different types of travelers. You can also easily go to the resort from the mainland.
Address: Matinloc Island, Barangay Bebeladan, El Nido, Palawan Island
Matinloc Resort is a family-friendly resort where you can take your entire family on an exciting marine adventure. El Nido is no doubt one of the best places to explore life underwater and to appreciate what lies above it. And while there are many resorts that are suited for couples, Matinloc Resort accommodates families and large companies.
To get here from Manila, arrive at El Nido Airport and take the boat to Matinloc Resort. The boat leaves every 3 hours from the town to the resort and every 4 hours from the resort to the town.
Click here for the latest room prices
The resort offers villas and specialty suites. They have beach villas that have a beautiful view of their pristine seafront. They also have mountain villas that are accessible by stairs. The view from the top is magnificent as you can take a good look at the Palio sea and the island of El Nido. Lastly, the resort also has VIP Villas which are perfect for organizing private dinners on its spacious balcony.
You have several dining options in the resort. For example, you can experience fine dining in their main restaurant or enjoy the stars with a beach barbecue setup. You can also meet people at the bar lounge located at the poolside. If you want to celebrate meaningful occasions, you can also book a private dinner.
Best Part?
The resort has large villas that come with very nice views. The exclusive location makes it less crowded.
Worst Part?
The resort is expensive, especially the island tours.
Summary
If you want to enjoy an exclusive vacation with your family, Matinloc Island Resort is perfect.
Address: Brgy. Bolod, Bohol, 6340 Philippines
South Palms Resort is one of the top 13 best beach resorts to stay in the Philippines that is located in Panglao. It guarantees relaxation with its premium guest rooms that exude tranquility, privacy, and modernity. They have 90 guestrooms and villas that feature Filipino traditional designs with a blend of modern elements. Each room is guaranteed to have stable wifi, a flat-screen TV, air conditioning, a mini fridge, a private bathroom with a shower, a hairdryer, and a terrace.
You can dine at the resort's onsite restaurant and that is the Oceanica Seafood Restaurant. They serve live seafood specialties and a la carte options. Coast Pool Bar, on the other hand, is the perfect place to chat and meet people while taking a sip of your favorite drink.
Click here for the latest room prices
You can also experience unique things at South Palms Resort. They offer rejuvenating and massage treatments in their onsite Spa, Zenses, the Spa. Island hopping is also very popular in the resort especially since Panglao is known for its stunning reefs and diverse marine life. You can visit Balicasag Island, Cabilao Island, Pamilacan Island, and the Habagat Shipwreck.
Best Part?
The beach in South Palms Resort will not disappoint. And along with that, the food choices and the professional staff are also very commendable. Many guests also loved the Happy Hour in the resort which starts from 7 AM to 7 PM.
Worst Part?
Some guests don't find the prices justifiable.
Summary
If you want to travel with your family or with your partner, South Palms Resort is perfect. You can also arrange tours from the resort and explore Bohol conveniently.
Address: Punta Bunga Cove, Malay, Aklan Province
Movenpick Resort and Spa Boracay is nestled on the northern tip of Boracay and is one of the top 13 best beach resorts to stay in the Philippines. It is a 30-minute ride from Caticlan Airport and a 15-minute walk to Baling Hai Beach.
In total, there are 13 rooms in the resort. There are 9 standard rooms, 3 suites, and 1 villa you can choose from. The only villa, Sol Marina Villa, offers two bedrooms, a bathroom with tubs and a separate walk-in shower, a spacious living room, and a dining area with a kitchenette. It also has a private lap pool and bubble pool with sun bed lounges. Other room amenities include free Wi-Fi and a coffee/tea maker.
Click here for the latest room prices
Movenpick also has a lot of dining options for you. First is Brezza which serves the best fresh-out-of-oven pizza in Boracay. This restaurant also serves authentic Italian cuisine. Second, the chill ambiance in the Fun Pub is perfect for hanging out with friends and family who are big sports fans. It also has a karaoke room for those who want to sing their hearts out. You can also participate in their happy hour which starts at 5 PM and until 12 AM. Movenpick also has a swim-up bar where you can order refreshing shakes and coolers. Some appetizers and light snacks are also available here. Other restaurants you can visit are Sol Marina Beach Club, Sam, and The Cafe.
Best Part?
Movenpick is perfect for family getaways. Guests also loved the customer service in the resort. If you are a sweet tooth, you will surely enjoy the chocolate hour every afternoon. If not, the selection of beverages in the bar will surely cheer you up. The sunset also looks beautiful from the resort.
Worst Part?
Some guests are saying that the food is mediocre.
Summary
Movenpick Boracay is perfect for guests who are traveling with their families.
Address: Brgy. Papaya Pico de Loro Cove, Hamilo Coast, Nasugbu
Pico Sands Hotel is a contemporary seven-story hotel in the seaside sanctuary of Pico De Loro Cave which features 154 guestrooms. Each room is equipped with modern amenities and has a captivating view of the mountain and the tranquil lagoon. The resort is a two-and-a-half-hour ride from Manila.
Another highlight of the resort is its smoke-free policy which complies with Executive Order 26. This EO states that cigarette smoking including vaping or e-cigarettes is prohibited in guest rooms and all of the resort's facilities. There are only designated smoking areas in the resort.
Click here for the latest room prices
The resort also has various dining options. There is Pico Restaurant and Bar, Lagoa, Reef Bar, Grab and Go, and B n B. You can also request a private dinner at Pico De Loro Cove.
Best Part?
Pico Sands Hotel is a family-friendly resort. The entire resort is also clean and well-maintained. Guests love that the resort is just located close to Manila.
Worst Part?
Highly overpriced for food.
Summary
If you want to travel with your family and don't want to go far from Manila, Pico Sands Hotel is a good choice.
Address: Brgy. Balaytigue, Nasugbu, Luzon
Club Punta Fuego is an exclusive membership club/resort in Nasugbu, Batangas. It is a 2.5-hour drive from Metro Manila via Ternate – Nasugbo Highway or South Luzon Expressway. Once you arrive in Brgy. Balaytigue, drive to the gate of Peninsula de Punta Fuego. The inspiration behind this resort is Fisher Island in Miami, Florida where modernity is incorporated into nature. The resort has 15 rooms and 33 casitas all of which are influenced by Spanish-Mediterranean architecture. Rooms with sea views have a nice view of the West Philippine Sea.
The resort also has the following facilities: Golf, Pools and Beaches, Spa, and Business Center. Dining in Club Punta Fuego is also a treat. San Diego Restaurant has large dining areas and an extensive menu. Il Jardineto features an outdoor beach setting while you take a bite of their authentic Italian pizza and pasta dishes. Lastly, Traditions and Contradictions Bar and Lounge is overlooking the resort's infinity pool. It has a central bar where you can order a wide variety of beverages– from wine to fruit shakes. Their menu also consists of Spanish-Mediterranean-inspired food.
Click here for the latest room prices
Best Part?
The resort has a very accommodating staff that will truly give you first-class service. It can also accommodate large groups.
Worst Part?
Exclusive membership only.
Summary
If you want a very exclusive, members-only retreat, Club Punta Fuego is perfect for you. It is also a quick getaway from Manila.
Address: 1 Ester A. Lim Drive, Barangay Tawala, Panglao, Bohol
Amorita Resort in Panglao, Bohol is one of the top 13 best beach resorts to stay in the Philippines. It has amazing services that's why guests love to come back to this resort. Sitting on top of a limestone cliff, this award-winning resort features 98 rooms and villas, 4 dining spots, and 2 infinity pools. It also has its own wellness spa, gym, and an in-house PADI dive center.
Saffron Restaurant, the resort's on-site restaurant, serves Continental and Filipino cuisine, and they can even accommodate dietary meals upon request. Another restaurant to choose from is Tomar Tapas x Bar. It features a neo-cultural experience for its guests. It serves European classics like paella, tapa, and pintxos. Azotea, on the other hand, features comfort foods while dining at the sight of the infinity pool. If you want an intimate dining experience, you can also book a private dinner where you can dine at the most picturesque spot on the island.
Click here for the latest room prices
Best Part?
The exclusive villas with private pools are really perfect for honeymooners and families with kids. Many guests also appreciate the kind staff of Amorita Resort.
Worst Part?
The restaurant's menu can be updated so that guests can have more choices.
Summary
Amorita Resort is a good choice for those who want to enjoy the beachfront and maintain exclusivity.
Planning your trip to the Philippines is always a good idea. You can dream of the places that you want to visit and know exactly where you will go.
Did we miss anything else? Let us know in the comments!
GO AROUND PHILIPPINES USEFUL TIPS AND LINKS
BOOK YOUR FLIGHTS
To travel around the Philippines, there are 3 local commercial airlines. Cebu Pacific Air, AirAsia and Philippine Airlines. Smaller airlines called AirSwift (El Nido, Boracay) and Royal Air also fly to limited destinations. Book your local flights here.
For international flights, I found Kiwi and Trip.com have cheaper flight options to the Philippines.
BOOK YOUR ACCOMMODATION
There are many choices of hotels, hostels, apartments and guesthouses to stay in the Philippines. Book through AGODA for the cheapest options and Booking.com. I also use Hotelscombined to see all prices from different websites to choose from.
BOOK YOUR BUS/FERRY/VAN/CAR
The Philippines can be difficult to go around because many buses, ferries and even private vehicles are offline. The best websites to book them are through Bookaway.com and 12GoAsia – they have many partners in different destinations and you can purchase tickets online.
Car rentals are also available for you to choose from here.
BOOK YOUR PACKAGE TOURS
If you don't know where to go and just want a hassle free trip to the Philippines, you can find package trips to different destinations with Klook – I recommend them for local tours and activities or Get Your Guide.
DON'T FORGET YOUR TRAVEL INSURANCE
It is very important to be safe and ready whenever accidents happen, especially in the Philippines where some places don't have quality hospitals and clinics. I use Safety Wings for whenever I travel in the Philippines or abroad.
Have you got any questions about traveling to the Philippines? Join our Philippines Travel Planning FB Page to get your answers.
Don't know how to start planning your Philippines trip? You can start here.
How Helpful is this Post?
Traveling around the world one baby step at a time. On a normal week, I juggle the life of a Software Engineer and a small business owner. I also write stories about my experiences while traveling– the adventures and the misadventures.